After the successful release of the Jaguar F-Pace, Jaguar has decided to give it a younger sibling; the E-Pace. The current F-Pace has done well for itself and constitutes of over half of the brand's current sales – but that's all about to change. Jaguar is betting big on the E-Pace and anticipates it becoming the best-selling Jaguar to date. We must say, it certainly does look promising!
The new E-Pace shares the same elegant and fluid design cues as the F-Pace, but has been extensively reworked overall. The compact SUV has a smaller wheelbase, and with that come short overhangs, and a more angular rear end. Inspired by the staggering F-Type, the styling of the new E-pace is apparently sportive and agile. Although being the smaller rendering of the F-Pace, the vehicle offers substantial interior space – legroom will be plentiful, and the luggage compartment will hold a considerable amount of luggage.
The E-Pace is not merely a smaller version of the F-Pace. With this car, Jaguar made a big push on connectivity and practicality for the entire family. A clean and crisp infotainment system lies at the heart of this all, and allows passengers access to their favourite applications, on a 10-inch touchscreen interface. Long road trips will be a joyful experience where the entire family will keep themselves busy: there are four 12-volt charging points and five USB connections, and a 4G Wi-Fi spot that can connect up to eight devices at once. The driver is immersed in the latest driver assistance, with Jaguar's new head-up display technology making a debut in the E-Pace. Combine this with the latest safety features, and it makes the E-Pace a very comfortable cruiser for long, and short, distances.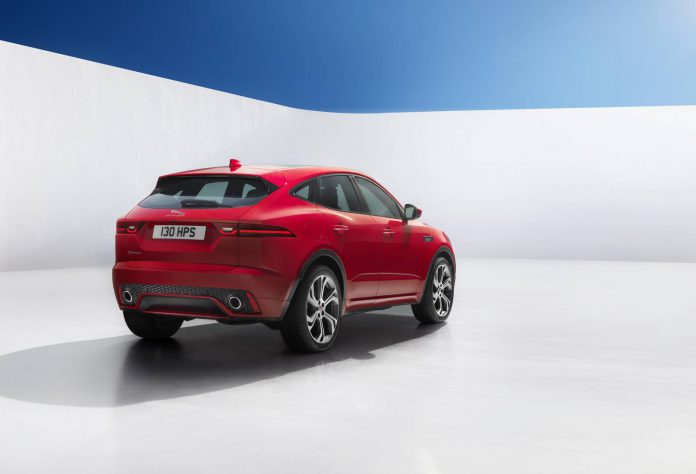 As for the technical specifications, Jaguar did not disappoint here either. The E-Pace features an optional Active Driveline all-wheel drive system, which is a premiere for Jaguar. The system gives the car tremendous stability despite a narrowed wheelbase, and optimal fuel efficiency in all conditions. The platform of the E-pace will be the same used for the Range Rover Evoque and Land Rover Discovery. Under the bonnet, customers can either opt for an Ingenium petrol or diesel engine –which will propel the SUV from 0-100 km/h in 6.4 seconds or 7 seconds respectively. The diesel variants will be available as a six-speed manual, and nine speed automatic. The petrol alternative will be sold solely with a nine-speed automatic gear box. Currently the two-litre, four-cylinder, petrol and diesel engines are the only available options to customers, but a hybrid setup is not excluded as a future possibility.