(Disclaimer: Author is a long-time Miata owner. Professional objectivity was attempted.)
You come here to GTSpirit.com to read the reviews and news about the latest supercars and high-end sport sedans. You love driving, you love performance cars, and you dream about climbing into the latest McLaren or Ferrari and driving off to blitz some fantastico mountain passes in Northern Italy while Gal Gadot gazes at you longingly from the passenger seat, seductively sipping her latte while marveling at your incredible driving skill. Then it all goes wrong as the alarm goes off and you wake from your nights sleep and you realize that the McLaren or Ferrari you were just driving is still a dream you can't afford. Why do good sports cars have to be so darned expensive?
The truth is they don't have to be, and one car company has spent the last 27 years proving it. If you've guessed I'm referring to the Mazda MX-5, well, you're right. Now in it's fourth generation, Mazda's unassuming but potently fun little sports car has been delighting drivers for almost three decades now. Most of us start to slow down in our thirties, get settled, make commitments. The MX-5 has instead found a renewed focus and sense of self. And to the millions of MX-5 fans (and sports car fans in general) worldwide, that's good news.
This year, Mazda decided to try something different with the MX-5: It built a coupe. Sort of. At it's core it's still a convertible, but rather than having a soft top that folds down out of sight behind the seats, it has a hard top that folds down behind the seats but still leaves an open fastback silhouette and a targa bar in place behind the cockpit. Called the MX-5 RF (for Retractable Fastback), it's an MX-5 for those who enjoy driving MX-5's despite being convertibles. Over the years I've spoken to many owners who love to track them but wished for a more structurally stable, hardtop version. They love the performance, the aftermarket tune-ability, and the low cost of ownership, but don't care for the convertible aspect of the car. While the RF doesn't have a fixed roof, it offers the next best thing – a hardtop car that still can give you that open air feeling.
We've seen it making the rounds at the auto shows over the last year and it's an attractive car, in our opinion. It takes the more aggressive design of the new MX-5 and gives a slightly different vibe from the convertible. It comes off as more aggressive yet, more serious about performance, and yet the novelty of the top operation still brings a smile of delight to your face. It's a small car, so trying to work a fastback greenhouse into the design appears to shorten the rear deck and creates a shape that calls to mind the Opel GT just a little bit. It's handsome and purposeful looking. Drop the top and it merely looks like a targa sports coupe, providing just enough open air fun to appease the purists.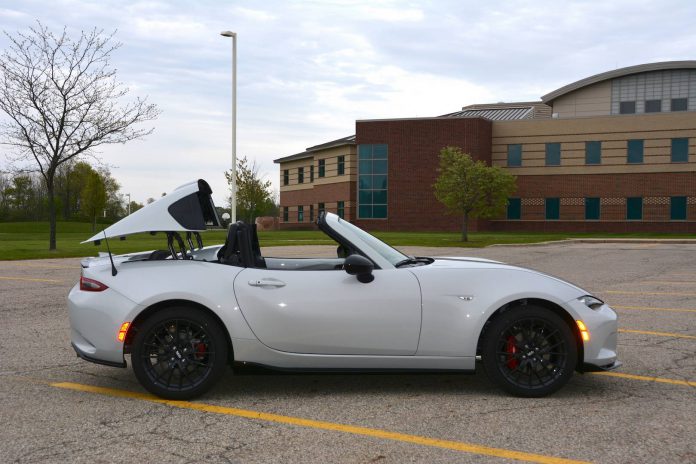 The top is a joy to watch work. The car must be stationary, but by pushing and holding a button, the fastback portion lifts away from the body of the car and is held stationary above the trunk while the folding hardtop either raises or lowers. Once the top is either locked into the windshield header or folded away behind the seats, the fastback section settles itself back in place and locks. The whole operation takes about 25 seconds and delights and amazes everyone watching. It's a hit at stoplights, let me tell you. Everybody watches. Some people take video on their phones. When up, the interior is quiet and snug. When down, it's still quieter than the convertible since wind noise is reduced, but the cool air tousles your hair a bit as you drive and the sound of the growling exhaust is easier to hear.
The interior is a very snug cockpit. Owners of earlier generation MX-5's who tried the new interior all agreed that it feels a bit tighter inside than the earlier cars, but it's also stuffed with more airbags and safety equipment than those cars had to contend with. The cowl seems lower and the view out the front seems more expansive. The view of the sexy curved fenders to the right and left is fantastic and is very reminiscent of, of all cars, the Dodge Viper, but with a higher windshield header. The seats bolsters are much more supportive and do a better job of keeping you in place when driving aggressively. The vents are better placed to keep a stream of air moving across you to either cool you or keep you warm. Mazda's standard infotainment screen sits perched on the dash since it ties to the stereo and nav systems.
It feels out of place in this car, but Mazda needs to keep costs low on this limited volume sports car so it gets the same system that all Mazda cars come with and that means an infotainment screen. You can still see the screen fine in bright sunlight. The glove box is located in the rear cockpit wall, between the seats at about shoulder height. Awkward to access, it's at least got enough volume to actually store stuff in. Below it was mounted a CD player that I have NO idea how to use when driving since you can barely even see it, let alone reach it. The cupholders are snap-in units that can either be mounted on the center console behind the driver's and passenger's elbows or up near the dash hanging off the console into the passenger's footwell. Neither is a great option but at least Mazda is trying. It's the curse of the tiny sports car interior: there's simply not enough room to lay everything out in the cockpit so you can access it.
Thankfully the driving dynamics more than make up for it, so much so that you'll forget all about the interior's shortcomings. The MX-5 engineering team has always been guided by the concept of "horse and rider as one" and this 4th generation is no exception. Mazda has always done a fantastic job of making the driver's interactions with the car fluid, intuitive, and pleasurable. "It just feels right" as their old tagline from the '80's went.
The steering is so well weighted that it feels a like a manual rack under motion and a good hydraulic rack at low speed. It's a meaty wheel, but a good balance between thick and thin. Palm swells and thumb crooks are well located. The left and right spokes contain controls for cruise and phone, respectively.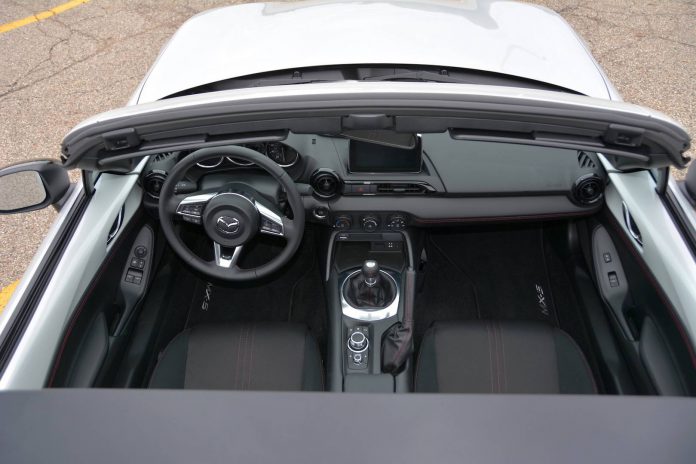 The shifter falls right where your hand would fall from the steering wheel, and as you'd expect is a joy to use. It's a six-speed, with reverse in the upper left. It moves between gates with ease; no notchiness, no catches, just a smooth but mechanical feel.
The pedals are well spaced both horizontally and vertically for heel-and-toeing. The accelerator is floor mounted. The clutch pedal has good feedback and is light in pressure. A decent dead pedal is mounted for your left foot when it's not dancing on the clutch pedal.
The brakes are a thing of beauty, both in appearance and in performance. Our car had the optional $3,400 Brembo/BBS package, which included black 17" BBS wheels and bright red Brembo front brake calipers, keyless entry, and the appearance package that includes an aggressive looking front splitter, side skirts, a rear spoiler lip, and rear bumper skirt. MX-5 brakes have always been good so I can't be sure the Brembo calipers really added anything extra, but Brembo has a great reputation so they can't possibly hurt. Plus they look incredibly sexy in their bright red paint behind those black BBS wheels. The braking feel was superb and you could easily modulate their stopping power.
The engine in this new model is phenomenal. It's a 2.0L naturally aspirated unit that makes 155 hp and 148 lb-ft of torque. Like all MX-5 engines, it's makes most of it's power in the mid- and upper-rev range, but it feels more elastic than previous engines. It revs freely and the revs come on frenetically. It feels like it makes more power through more of the rev range, and it feels genuinely quicker because of it. It really finds it's stride around 3500 rpm and it grows in intensity to just shy of it's 6800 rpm redline. The 13:1 compression ratio has much to do with that, I'm sure. And it sounds great too. The little 4-pot makes all the right noises, growling when prodded, and you can even chirp the rear tires without much effort.
But the car's greatest strength is it's chassis. How it handles when pushed has always made believers of anyone that has driven the MX-5. From the start, It's possessed a dual nature that has always been a treat. Soft and sporty to the relaxed driver, but thoroughly capable in the hands of an aggressive driver. I'm sure there are many people who bought MX-5's over the years and thoroughly enjoyed them as cute convertible sporty cars without ever pushing them and discovering what a fantastic suspension lies underneath it. Those who have discovered it tend to become MX-5 addicts. Agile and responsive, it seems to know what the driver wants to do and, like a good horse, not only goes along with it but supports the driver any way it can. You can throw it into corners too fast and the car just gracefully slides wide through it, the tires allowing a little drift but never feeling out of control. It helps novice performance drivers improve their skills and rewards skillful drivers at the same time.
And historically they've all done it with relatively soft suspensions. That was the one thing about earlier models that I didn't like – the flexible chassis was too softly sprung, I suspect to compensate for the flexibility in the chassis. I prefer a firmer, more controlled ride so I've always swapped out springs and shocks relatively soon after bringing one home. However, this may be the first MX-5 with a suspension firm enough that I'd leave it as is. It's firm and confidence inspiring but it's never harsh. There's little dive, squat, or lean. And it finally feels like the capable sports car that it is. It might be due to the increased rigidity of the RF with it's special fastback top. It's definitely a tighter structure that could very well allow the chassis to do it's job better.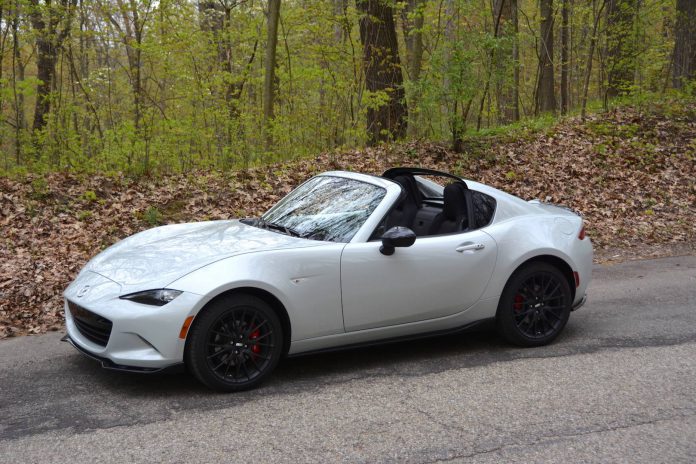 On sinuous backroads, the car tracks confidently through curves, around corners, and over hills. The engine is happy to wind out in each gear and the car never feels out of breath. Some might argue it's a little underpowered but Mazda has always resisted the cry for more power. It's all about finesse, about making the most of the power you have. Keeping your speed up through corners makes you a faster driver, whether in a 155 hp Miata or a 600 hp Ferrari and it's a skill worth learning that the MX-5 can teach.
As far as MX-5's go, this generation is probably the best overall performer yet. If I were going to change something about it, I'd lower the infotainment screen controls into the console so my shifting arm didn't activate them every time I made a shift. And I might put the glovebox back under the dash on the passengers side so I could reach it without having to contort myself before giving up and stopping the car to access it.
Over it's 27 years of existence, the MX-5 has stuck to the same philosophies of light weight, great suspension, intuitively interactive controls, and a high fun factor. The power-to-weight ratio has never varied much, if at all. Yet each generation has gotten quicker and better while maintaining the same relative specs. There's a reason there are more Mazda MX-5's on race tracks on any given weekend than any other make and model in the US – They're great little cars. The new RF offers a distinctive look and feel and is a great complement to the little Roadster in Mazda's line up. If you love driving but have always considered the MX-5 to be an underpowered "hairdresser's car" you owe it to yourself to try the new model. And if you avoided the MX-5 because it was a convertible, you owe it to yourself to try the new RF. Because there's a mountain pass in Northern Italy that's waiting for you to blitz it. Gal Gadot probably won't be there, but…you'll be so absorbed in the driving experience you won't even care.