The new Jaguar XF Sportbrake was recently unveiled, expanding Jaguar's offering in the premium executive market! It follows the first generation 2012 XF Sportbrake, adding a sleek and sporty hatch to the back of the existing 2nd generation Jaguar XF platform. The new version will mark 10 years of production for Jaguar's successful XF range.
Owners of the Jaguar XF Sportbrake will likely be interested in the new version's loan space. Jaguar have confirmed that the XF Sportbrake will include 1,700 litres of load space with the rear seats down. A 25 litre improvement on the outgoing model's 1,675 litre capacity. With the seats up, 565 litres of load space is available, 15 litres more than the first generation. Jaguar have also confirmed a two-tonne towing capacity.
The new bodywork gives an impressive aerodynamic efficiency of Cd 0.29. It gives a fast, sweeping silhouette giving a sense of speed and a dynamic appearance to match the aero work. The Sportbrake measures 6mm shorter than the previous model, but its wheelbase has been lengthened by 51mm to 2,960mm.
2018 Jaguar XF Sportbrake
Owners of the Jaguar XF Sportbrake will now have the option of all-wheel drive and All-Surface Progress Control, taking the estate car battle to rivals Audi, BMW and Mercedes-Benz who all offer this sort of drivetrain. Underpinning the Sportbrake is a self-levelling air sprung rear suspension with a wealth of optional dynamics packages including adaptive dampers.
Jaguar will offer various engine ranges across different markets. These include four diesel engines; a 163PS 2.0-litre diesel manual and automatic with RWD, a 180PS 2.0-litre diesel automatic available in RWD and AWD, a 240PS 2.0-litre diesel automatic exclusively in AWD and a 300PS 3.0-litre V6 diesel automatic in RWD. On the petrol side of things, two options are available; a 250PS 2.0-litre petrol automatic including RWD and AWD in some markets and a 380PS 3.0-litre V6 petrol automatic exclusively in AWD for US, China and African nations (us European's miss out!).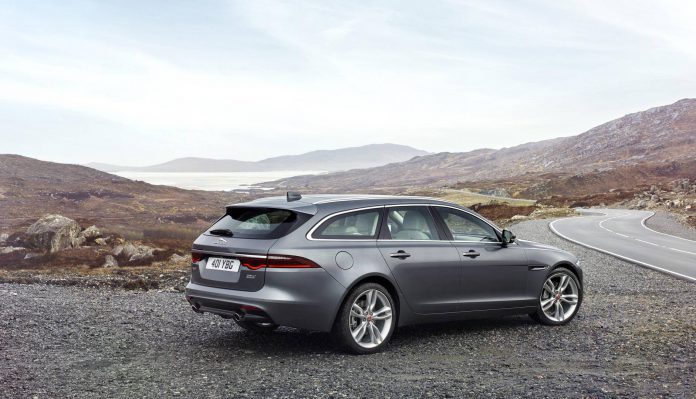 5 trim levels will be on offer including Pure, Prestige, Portfolio, R-Sport and S. The Sportbrake features Cabin Air Ionisation which circulates clean air through the cabin. Gesture Control lets you operate the panoramic sun blind or open the boot when your arms are full of kit and a huge panoramic roof should flood the interior with light. An optional activity key is also available which looks like a watch but keeps your key safe while playing sport.
Pricing of the Jaguar XF Sportbrake in the UK starts from £34,910. Order books are open now!