Once upon a time the car company Lexus had a vision of itself not just providing more luxurious Toyotas to the world, but creating a new image for itself as a highly respected brand offering a varied mix of vehicles to suit every taste. From that vision sprang the Lexus we know today with SUV's, hybrids, luxury cars, sport-luxury cars, and full-on sports cars in it's portfolio. In order that there were no missteps that might sully its growing reputation, Lexus carefully planned a path and step-by-step created the company that it is today.
As an example, in order to be taken seriously in the luxury sports car segment, Lexus carefully researched, planned, developed and even filed for quite a few technology patents while creating the LFA supercar. Some scoffed when Lexus announced that it was building a supercar, but the LFA showed that Lexus was a company that was serious about achieving it's goals. While the car they introduced looked a bit restrained and conventional, the engineering underneath the skin was the purest automotive porn ever to come from Japan. It wasn't just engineering, it was art. And the sounds it's engine made could make the hair on the back of your neck stand up.
With the world convinced of Lexus ability as a sports car maker, Lexus then developed and released their F-Sport series of cars to capitalize upon their massive LFA investment. Lexus' F-Sport cars are production Lexus luxury cars tuned to a higher state of performance than the base models that spawned them. It was my sincere hope that some of the LFA's magic might have rubbed off on the F-Sport line of cars, and specifically the GS 350 F that Lexus was kind enough to loan to us for a few days.
After the never-ending tide of gray and silver cars we've been driving lately, the GS 350 F-Sport that was delivered to us was a welcome relief. It came in the brightest, most mood-elevating color we've seen in awhile. Called Ultrasonic Blue Mica, it elicited quite a few compliments. The blue does a nice job of highlighting the subtle lines of the design, which carries many of Lexus' design cues. From the gaping grill that threatens to swallow anything in it's way, to the restrained lines through the flanks to the pedestrian rear, there is no mistaking it as anything but a Lexus. It's a nice looking sedan, but most people we polled found the complex origami-like grille was a little too busy. After seeing the front, the sides and rear of the car seem almost boring, though there were some elegant touches. The taillights in particular are a beautiful balance of graceful symmetry and color.
The four-seat interior is comfortable, with dark grey leather and carpeting. It's simple and smartly laid out, but unfortunately it feels dated. Components and controls have a last-generation feel to them, which makes me suspect that a new GS is right around the corner. It's not a bad interior, but it feels like it's behind the curve compared to many of it's competitors. I will give them points for the use of the unusual material throughout the interior that reminds one of fish skin. Carp, to be exact. It's a gray material with a scaly carp skin look which, given the car's Japanese roots, makes sense since carp hold a unique place in Japanese culture and art. I'm not sure if I liked it or not, but I found myself studying it at more than one stoplight. Automatic temperature control keeps the climate about perfect, and the sound system was excellent.
The seats are very comfortable. They are well-bolstered and keep you in place during even the most violent maneuvers but are still easy to get in and out of. The structure of the seats is comfortable for long drives. Both heating and ventilation are built in so you'll always be the right temperature. You could sit for hours in them without getting uncomfortable.
The infotainment/nav screen is recessed fairly deeply into the dash and uses a unique system to select menu options. On the right side of the center console is a large boxy mechanism that looks like a 1980's car phone, if you ever watch old Miami Vice reruns. It's actually a hand rest and mouse tracking lever, which allows you to scroll around on the screen and select options by pushing the tracking lever down. It's an interesting but far less graceful alternative to the common dial on the consoles of most other cars. To remind you of that, there happens to be one of those common dials on the console also but it was to select between ECO mode or SPORT/SPORT+ mode.
The steering wheel is attractive in design and comfortable in the hand, with paddle shifters tucked behind it. Cruise, radio, phone, and lane-keeping controls are built into it for convenience. It is heated as well and it kept my hands warm on more than one frosty morning.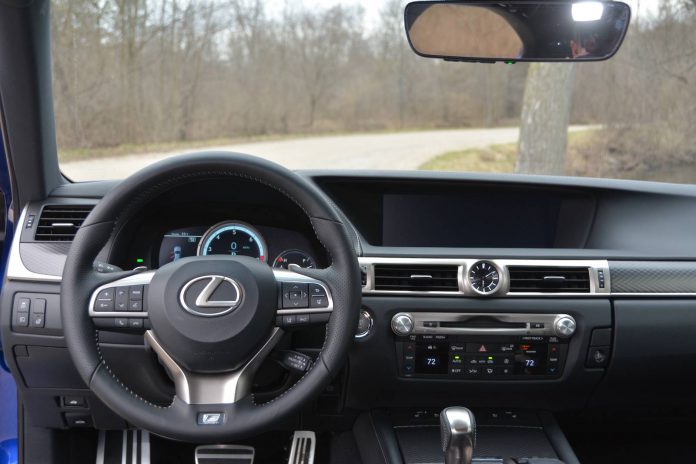 Standard electronics include all the recent lane-keeping, blind-spot monitoring, and distance following safety systems that seem to be de rigueur in higher end cars these days.
The trunk is sizable and has a few compartments built into it for storage of the spare tire, tools, and whatever else you want to keep back there. There's a pass-through into the back seat should you need to carry skis or long tools.
So how does it drive? As an F-Sport car, I was really hoping for a little LFA magic and while everything looked promising on the spec sheet…the LFA didn't rub off on the GS 350 F as much as I'd hoped.
The engine is a 3.5L V6 making 311hp and 280 lb-ft of torque. It sounds restrained and a little quiet but confident, and propels the car at a decent rate. It makes most of it's power in the upper rev range in a fairly narrow power band, so you have to keep it revving in order to take advantage of the power. As long as you're in SPORT or SPORT+ mode, it moves the car with authority but it could use more power.
The engine power is channeled through an 8-speed transmission, driving the rear wheels.
The shifter has both a sport-shift feature and paddle shifters too. The 8-speed transmission was likely chosen to help keep fuel mileage numbers looking good because disappointingly, it really doesn't add any enjoyment to driving the car, even with the paddle shifters. The engine-transmission pairing never really felt like a cohesive complimentary unit, which was frustrating. They felt like two distinct elements reluctantly working together.
The brakes are solid units that do a fantastic job of hauling the car down quickly and controllably from speed. They built confidence instantly the first time I had to really use them. Further specs include a limited-slip rear differential and four-wheel steering that allows the car to turn around in a very small space.
The first indication I got that this car wasn't infused with the LFA's DNA was that the engine defaults into ECO mode when you start it. As you can guess, ECO mode keeps things efficient and conservative. It keeps shifts short and hinders revs. It's okay for your daily commute/freeway slog, but it makes the car feel like a common utilitarian people mover, instead of a serious sports sedan.
If you swing the mode dial on the console from ECO to SPORT, the engine loosens up a bit and the transmission holds onto gears longer before it shifts. It feels sportier but with it's peaky power band and only 311 hp and 280 lb-ft in a car this heavy, it feels a little underpowered. I tried sliding the gear selector over to "+/-" and using the paddle shifters, hoping it would add some excitement to the experience. They shift through the eight gears pretty quickly and fairly responsively, however with eight gears you never quite seem to find yourself in the right one so you have to quickly flip down through three or four gears to find one that will take advantage of the engine's sweet spot. And downshifting with the paddle shifters sounds aurally great, but it doesn't engine-brake the car enough to make it worthwhile. After a while, I gave up on the paddle shifters and found myself just letting the automatic do the work.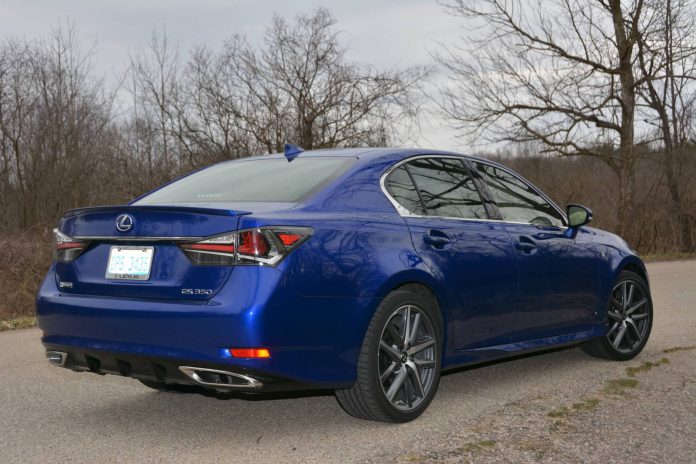 If you twist the mode dial to SPORT again, you engage SPORT+ mode, which also firms up the suspension and steering for a sportier drive. This makes the car come alive and gives it some genuine sporting feel. The suspension consists of double-wishbones up front and a multi-link set-up in the back. It's a good setup. It's firm but comfortable in ECO and SPORT modes and comfortably firm but even more responsive in SPORT+ mode. It was cold and rainy the week we had it so we couldn't push it too hard but it feels good in corners, confident. Hills and dips on challenging back roads don't upset it. It does what you ask of it and it inspires confidence along the way. Lexus seems to understand good suspension design. This is the most LFA-ish part of the car. The frustrating part is that you have to engage a particular mode in order to get it. It's like Lexus is trying to hide its sporting nature.
In the end, the GS 350 F just doesn't excite like you'd expect it to. Don't get the wrong idea: It's a good car and it has performance, it just takes a conscious effort to find it. It has great suspension (in the right mode) and the engine can is responsive (in the right mode), but it's work to extract it and that's not fun. The fact that it defaults to ECO mode instead of SPORT or SPORT+ is a dead giveaway that it's more of a luxury sedan than a sport sedan. The "F-Sport" badges on the fender and trunklid had us hoping for a more impressive car. Perhaps the full-fledged "F" cars have that something special. We're hoping to get our hands on the new and gorgeous LC or the RC-F soon and we hope to let you know.