Porsche has launched the second hybrid variant of the Panamera today; the Porsche Panamera Turbo S E-Hybrid. It is the most powerful Panamera in the range and benefits from high performance petrol and electric power plants. It is the first time that a hybrid Porsche (setting aside the Porsche 918 Spyder for obvious reasons) has headed any Porsche product range. It definitely has something to prove!
The Panamera Turbo S E-Hybrid features a four-litre V8 engine lifted from the Panamera Turbo. Combined with an electric motor it produces a staggering 680 hp and 850 Nm of torque. Those astonishing figures make for very exciting performance figures; zero to 100 km/h in 3.4 seconds and a top speed of 310 km/h. What's more, the Panamera manages New European Driving Cycle consumption figures of 2.9 l/100 km and up to 50 kilometres of pure electric drive.
The Panamera Turbo S E-Hybrid combines a 136 hp electric motor with a 550 hp V8 engine. It has an electronically actuated de-coupler operated through an electric clutch actuator (ECA), using identical technology to the less powerful Panamera 4 E-Hybrid. A eight-speed Porsche Doppelkupplung (PDK) with eight gears is used to send the power to an adaptive all-wheel drive system.
2018 Porsche Panamera Turbo S E-Hybrid
The electric motor uses a liquid-cooled lithium-ion battery with an energy capacity of 14.1 kWh. It is able to fully charge within six hours via a 10 amp, 230-V connection. An optional 7.2-kW on-board charger and 230-V connection is also available as an option and cuts charge time to just 2.4 hours.
To provide class-leading comfort, the Panamera Turbo S E-Hybrid comes with air suspension as standard. Both short and longwheel base versions will be available with the long wheelbase Executive version to follow. The car starts in fully electric "E-Power" mode with pressure points in the accelerator helping determine when the Panamera needs to switch to "Hybrid Auto" mode.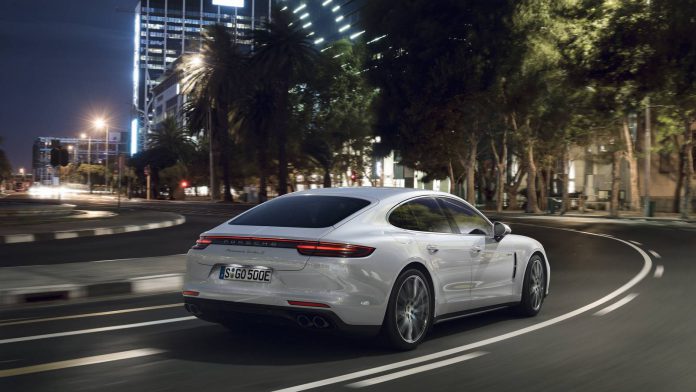 Standard items for the Panamera Turbo S E-Hybrid include Porsche Ceramic Composite Brake's (PCCB), Porsche Dynamic Chassis Control Sport (PDCC Sport), Porsche Torque Vectoring Plus (PTV Plus), Power Steering Plus and 21-inch alloy wheels. The Executive version will come equipped with rear axle steering as standard.
The Porsche Panamera Turbo S E-Hybrid will get a European market launch in July 2017 with worldwide launches to follow during the second half of 2017. German launch prices have been revealed at 185,736 euros including VAT and 199,183 euros for the Panamera Turbo S E-Hybrid Executive.
First Impression
Our colleague Jens Meiners already had an opportunity to experience the new Porsche Panamera Turbo S E-Hybrid and here are some of his thoughts.
The punch is incredible, and straight-line performance is clearly superior to the regular Turbo. The sprint from 0 to 100 kph takes 3.4 instead of 3.6 seconds, the gap widens for the 0-200 kph sprint, which takes 8.3 seconds, down 0.9 from the Turbo. And in the master discipline 0-300-0, the hybrid is expected to shave off a full 10 seconds – to 37, down from 47.
And that's not just numbers; the Panamera Turbo S E-Hybrid feels every bit as fast as the numbers suggest – especially at Autobahn velocities. It's a clear case of a dual personality: You can take off on E-power only and drive this car very efficiently, or you can flog it – and get the full soundtrack and performance of a Turbo, with the extra kick of a compact and torquey electric motor – which doesn't disconnect, but keeps pushing up to the governed top speed of 310 kph – up from the regular Turbo's 306.
Porsche Panamera Turbo S E-Hybrid
The Turbo S E-Hybrid adds a whopping 315 kilograms, 270 of which are due to the electrification package. The remaining 45 kilograms can be attributed to the extra equipment, including every chassis performance system with the exception of the rear wheel steering: That's still optional on the short-wheelbase E-Performance, while standard on the long-wheelbase Executive.
The Turbo S E-Hybrid is not just the ultimate Panamera, it could become a new benchmark among high-performance sedans.