The Ferrari 812 Superfast has been officially unveiled ahead of the Geneva Motor Show 2017. It had previously been known as the Ferrari F12M, although it is now clear that the cars is not so much a facelift for the outgoing F12, rather a completely new model. It ushers in a new era for the V12 powered touring Ferrari's.
As the name suggests, the Ferrari 812 Superfast is superfast! It gets a new 6.5-litre V12 engine with a staggering 789 hp at 8,500 rpm (800 cv in Ferrari terms). The V12 remains mid-front mounted giving it a unique place in the market, quite apart from other luxury GT cars. Maximum torque is quoted at 718 Nm at 7,000 rpm. Performance includes a maximum speed in excess of 340 Km/h and a 0-100 km/h time of just 2.9 sec.
The improvements were achieved through a 350 bar direct injection system and a variable geometry intake tract, developed from naturally-aspirated F1 engine technology. The 812 Superfast gets a dual-clutch transmission with new gear ratios, reduced shift times and a sharper throttle response. Dry weight with lightweight optional extras is 1,525 kg. Weight distribution is stated at 47-53% front/rear.
As expected, the Ferrari 812 Superfast comes equipped with Ferrai's four-wheel steering system called Virtual Short Wheelbase 2.0 system (PCV). It is an evolution of the F12tdf unit and apparently improves handling and responsiveness. Coupled to this, the Superfast is the first Ferrari to come with EPS (Electric Power Steering) which combines with the latest 5.0 version of Ferrari's patented Side Slip Control (SSC).
Styling is completed by the Ferrari Styling Centre once again. It is a classic front-engine V12 shape which apparently attempts to invoke the design of the 1969 365 GTB4. The tail is visually shorter which the design is also more muscular and imposing. LED headlights characterise the front while redesigned fender air intakes integrate with the wheel arch.
Four round taillights are on display at the rear with a lower, broader stance. The Ferrari 812 Superfast is launched in a special new colour, Rosso Settanta, which marks the company's 70th anniversary.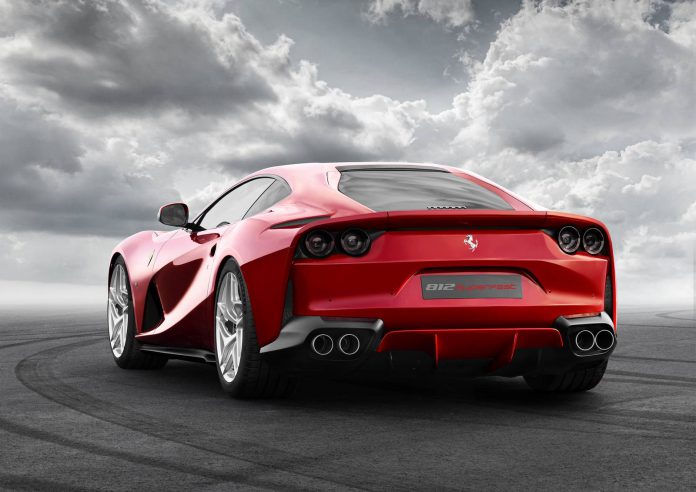 Inside, comfort and space are key, as with every V12 Ferrari. The dash loops around the central air vents for a fresh look. Sports seats, a new steering wheel and the latest infotainment system are key features.
What do we think? We love the looks and the performance looks game changing on paper. Ferrari still can't seem to get the nomenclature right though… If that's all we have to complain about though, Ferrari have done very well indeed!