Mansory have tweaked their widebody package for the Mercedes-Benz G-Class, just in time for the winter season! The legendary tuning company now offers the package for the entire model range with fittings on offer for the AMG-tuned G63 and G65 as well as the G350 and G500.
The package is a mild update on the outgoing Mansory G-Class modifications. It features carbon fibre components, larger wheels and a range of performance enhancements which give the G-Class an edge over the factory version.
Carbon fibre components include fender flares with a slightly different look to the outgoing models, a set of carbon fibre door skins and a slightly revised front and rear bumper. The panels increase the G-Class body size by a further 40 millimetres at a cost of 18,900 euros plus VAT.
The real difference in this package is in fact the small additional components. the roof panel for example which emulates the look of the G 500 4×4 and the fender vents which are redesigned to give a more modern look. A roof spoiler is also available together with a set of roof lights. The lightweight hood looks the same as the existing Mansory package while the door handles, rear-view mirror housing, headlight covers and panelling of the A-pillar also complement the look.
Various 21-, 22 -, or 23-inch-wide alloy wheels are on offer. The car in the photos wears 23-inch M8 double-spoke wheels with 305/35R23 tyres. As an example of the type of performance upgrades Mansory offers, the G 63 could receive new engine pistons, connecting rods, connecting rod bearings, crankshaft, cylinder head and more as well as a custom exhaust. This would boost power to a staggering 840 hp with maximum torque electronically limited 1,150 Nm.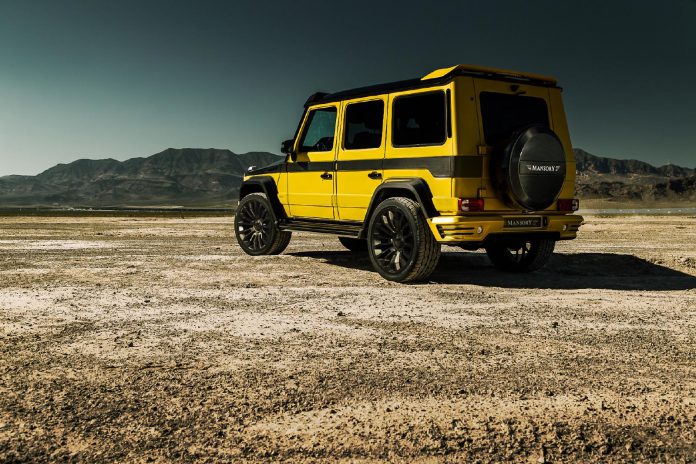 Needless to say, the interior of the G-Class can be styled to individual demands. Dashboards, seats, headliners and carpet fittings can be modified in Alcantara, leather or with carbon fibre to suit each individual build. Of course, the price is relative to the specification!