Press drives are all good and well. They give people like me, who pretend to know anything about cars, the opportunity to drive cars before they are offered to the general public to splash their cash. That means the judgments the press pass are actually a little bit important. Much like the weatherman giving their forecast on the rain, it is always interesting to see if predictions are correct.
The Bentley Bentayga went on sale a year ago. I was not one of the people trying to predict snowfall, precipitation or how well the Bentayga would sell – that was left to my esteemed colleague, Lawrence Adams. So here I am, exactly one year ago since the launch of the Bentayga in Crewe, the ancestral home of Bentley since December 1937 to watch how the Bentayga is built.
Bentley Bentayga Factory Visit
Since being launched the car has proven to be great success, you can breathe a sigh of relief Lawrence. It has won 12 awards globally, selling in 56 markets, underlining its international appeal. The SUV was launched with an astonishing W12 petrol with a diesel being added shortly after, a car we recently drove.
Wolfgang Dürheimer, Chairman and CEO of Bentley Motors, said "Customer reaction has been outstanding. We have increased production and reduced long waiting times for customers by making more than 5,500 luxury SUVs in 2016. Deliveries have commenced in all 56 markets in which we are active and our dealers are well placed to meet customer demand. Overall I believe this to be a remarkable first year's performance."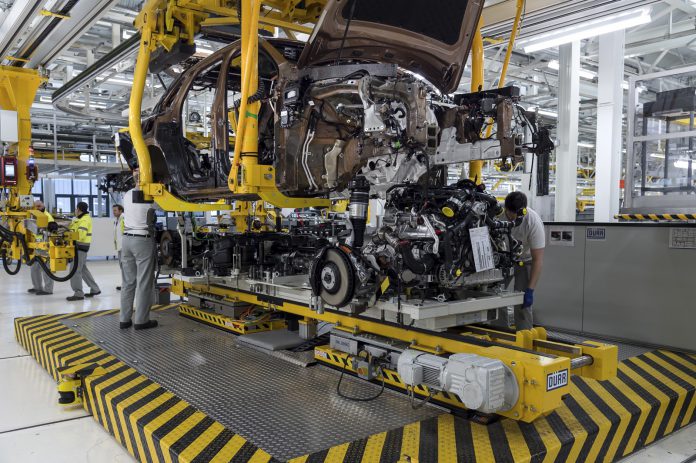 Speaking of production, back to a very cold Crewe. I jump into a minivan that transported me past the main gates to the old industrial brown brick buildings that every single Bentley currently being produced starts life.
The first stop is an eye-opener. Whenever I get in a car I look around at the materials and finishes, possibly stopping to touch a few surfaces before hitting the start button and going on my way. Interiors are something few take the time appreciate and Bentley work meticulously to create the finest interior finishes in the industry. From explaining that the walnut or any other woods actually come from a giant rootball deep under the tree, to talking me through the multiple layers and polishes used, the tour of the panel room was fascinating in its own right. It is incredible how Bentley are working to better every aspect of building cars. They are now even offering veneers and panels made from stone.
Bentley Bentayga Factory Visit
The second station is where the leathers are cut and again, the options are sensational. The hide used comes from the most well kept and groomed Italian bulls. Depending on specifications, as many as 15 or more hides may be required to upholster a single car. The hides are dyed and then laser cut by one of only a few automated systems in the factory – Bentley really does ensure as many processes as possible are still done by hand to maintain quality and the best finishes.
The selection of colours pays testament to the levels of customisation that clients have available to them. From pinks to blue and greens in between, there are a number of shades to choose from. As I proceed to the next station my attention is diverted to a chair that looks fit for a clown – a tapestry of different stitches, colours and textures of leather. As I move onto stitching I am introduced to gentlemen that work to stitch each and every thread on the steering wheel. It looks painstakingly tedious but it cannot be argued that the finished result is a work of art.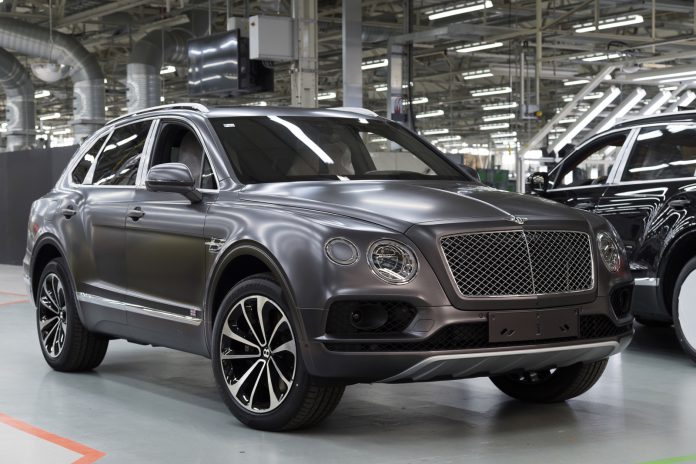 Enough of the interior, it was time to see how the body of the car was assembled. The first station was astonishing as I saw the bodies of the Bentayga being fitted with electronics and wiring, then incrementally glided from one side of the huge workshop to the other, becoming more and more complete as they moved. Moving into another section of the factory I witnessed the W16 engine, a technological masterpiece being mated to the frame of the car. This was followed by wheels as they looked closer and closer to being road ready.
The full factory tour takes a day, time I unfortunately did not have as I had not just traveled to Crewe to watch the Bentayga being built, but also to drive one. Being an SUV these days does not mean as much as it used to. With every manufacturer jumping on the bandwagon it appears modern SUVs are very rarely used for actual off-roading but Bentley were keen to prove that their first attempt in a 4×4 vehicle had very credible off-road capabilities.
Bentley Bentayga Factory Visit
I jumped into one of a dozen or so Bentaygas lined up outside of the factory and rolled onto the cold tarmac. With the steering wheel and seat heaters set to a level just so to kill the winter chill the cabin was as comfortable and serene as you would expect a Bentley to be. It is remarkably smooth and placid given that the W12 upfront could churn out 600 horsepower and catapult the 2.4 tonne SUV to 100km/h in 4 seconds at the flex of a right foot. As I twist the drive select from the default Bentley setting to sport things get a little more spiky. The throttle is more responsive, the gearbox holds higher revs. A break in the traffic has me mashing the loud pedal and shifting into manual. The sounds are described as 'informative not intrusive' in the brochure, the W12 certainly clears it throat and the Bentayga picks up speed FAST. Where a Ferrari Speciale singes your nerve endings with a sensory overload, the Bentayga gives you a little heat but there is a sense or detachment, as if you are protected from the exhilarating emotion with a pair of oven gloves. Hey, I guess you cant make an elephant dance in high heels. That being said, that is not what this car has been designed for. It's a GT car, a car you and your family fill with luggage and cross continents in it.
Soon I reached my destination adorned with Bentley logos and arrows directing me into a worryingly dense wood. The UK is never dry for very long and heavy rain the day before meant traction was scarce. That was no issue for the Bentayga. Over scarcely believable gradients where I feared would overwhelm gravity and fall backwards inducing Olympic standard back flips, the ultra premium Bentley did not put a foot wrong. Even wading through a deep autumn leaf filled lagoon the car seemed at ease.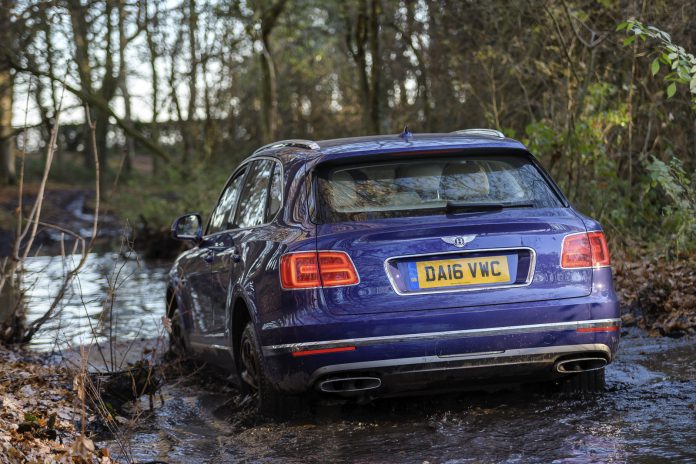 Hardcore offroading complete it was back onto the tarmac and time for some twisty stuff. VAG created a unique 48 volt anti-roll system and it is simply unbelievable how this car handles its weight and speed. It means you can exploit the performance without experiencing the body roll you would expect from such a machine. Tremendous and another example of engineered technology that would not have been possible without the VAG partnership.
The chance to see the Bentayga being built and driving it immediately afterwards is something that I shall never forget, it opened my eyes to appreciate the quality and craftsmanship that goes into creating such awe inspiring and capable machines. A massive thanks to Bentley Motors and HR Owen for the invitation and hospitality.