Recently I had a chance to visit the Alila Jabal Akhdar hotel in the mountains high above Oman's capital Muscat. It's a luxury family retreat which offers Spa services and a full service hotel stay. Remote and branded as an "escape from it all" hotel, it leaves you truly decompressed and wanting for nothing, except perhaps a longer stay.
My friends that follow me on Facebook know how excited I became about this hotel. I've take dozens of photos and gushed emotionally about our experience. Quite out of character for me. I have been asked before to review a hotel for GTspirit but I've always demurred thinking I couldn't really add much to the body of knowledge that's out there. However, after 10 days of superb customer service, high quality cuisine, wonderful moonlit evenings and glorious sun drenched days by the pool I felt compelled to share my experience.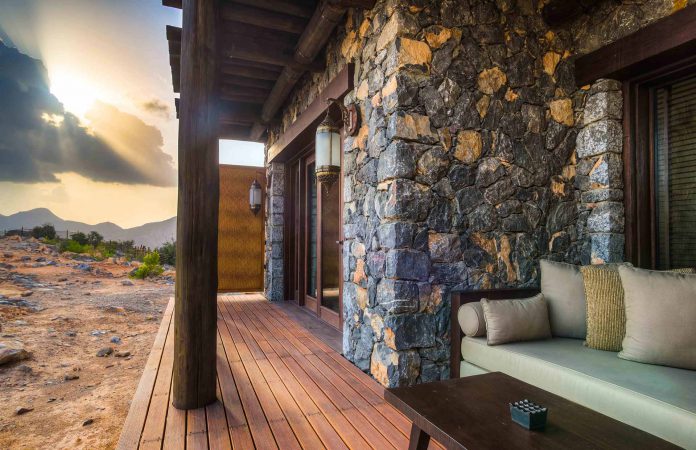 The beginning of our stay in the Hajar Mountains could so easily have been a low point. After a 2 hour transfer, with much of it being driven up twisting, tight mountain hairpins, from Muscat Airport and arriving at 1am in the morning, I think it's fair to say my mood was a little edgy, we'd been travelling 14 hours by then and neither of us are great passengers. Not the ideal experience to start your holiday with. However, on arrival check-in was faultless and our bags and we were whisked by golf buggy to our palatial suite.
Too tired to take much notice of our surroundings we crashed out early and slept deeply….
10 days later I'm sitting here a little tanned, very relaxed and about to catch the flight home and figured I'd share my conclusions about Alila Spa Hotel, in Oman.
I've been to Oman before and I'm assuming most of you have too, so I'll limit my comments about the country itself. It's welcoming, hospitable, and has tried very hard to maintain its culture and national heritage and I think has succeeded well.
The highlight of our experience has to be the truly superb customer service we received. Nothing was too much trouble, everything was thought of and catered for and whenever I thought what I really want right now is X, the staff duly moved heaven and earth to deliver it. I'm serious , Day 1 as a true Brit abroad I asked for HP sauce to go with my breakfast, not really thinking where we were, the wife kicking me under the table, and the restaurant manager Saj apologising profusely. Day 3 breakfast is served with HP sauce. I kid you not. Where or how they sourced it I don't know but they did and there were many such examples of us making unreasonable requests of the staff, kitchen, etc and them delivering in bucket loads.
Something I'm glad was missing was the unseemly hovering for extra tips that exists in so many of the worlds top destinations, here you can tip if you want but it is optional and always welcomed with genuine surprise and gratitude.
The trip was timed to celebrate my 25th wedding anniversary, so on the appropriate evening I made a request of the staff to allow me to spoil the good lady wife. Well how about private dining with a bespoke menu, on viewing platform , 1000 metres above a ravine, with flaming torches, candles and fine French wines. Yes it was as spectacular as you're imagining.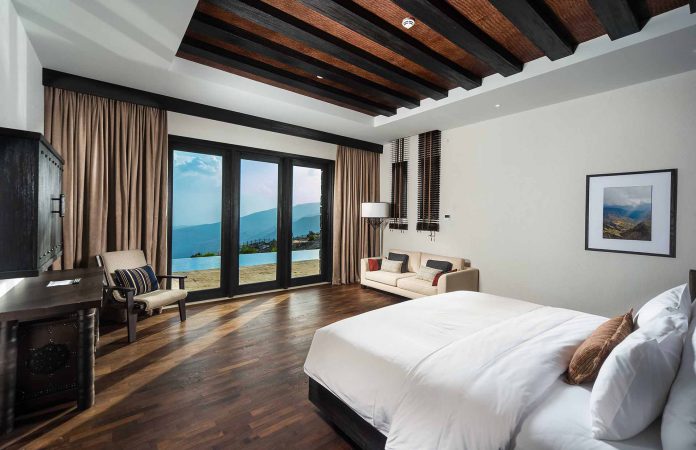 No review of this place would be complete without mentioning the location. Yes it's hard to get to. Yes you may struggle with the altitude a bit, it's 2000 metres above sea level, but when you get here and stare open mouthed at the scenery and cliff top views it will all be worth it. Pictures fail to capture the vertiginous peaks and drops, you'll just have to take my word for it. Or come here yourself.
The hotel itself is worth a mention too, built in local stone and timbers, it has the air of a Bond Villain's hide out, but it melds beautifully into its breathtaking surrounds. Luxurious, well appointed, everything is of the highest quality and finish. Water runs throughout the grounds via network of gullies and pools and is a clear reference to the irrigated gardens at Nizwa, a local WHO listed site and well worth a visit. The infinity pool is nicely done and we spent many an hour cooling off in there.
The only real drawbacks I can think of are the ridiculously slow Wifi connectivity (which is apparently being addressed by a direct cable being installed) and the already mentioned quite inaccessible location. Neither of which were insurmountable and did nothing to spoil our trip. Activities are light on the ground and if morning to dusk aquarobics or ping pong competitions are your thing then don't come, you will be bored. There are local hikes organised and the area is of outstanding natural beauty so there's plenty to get off the reservation for, but as a destination for lazing by the pool, eating fantastic food, and just soaking up the ever present sun I cannot think of a better destination.