As BMW set out to create the current M4, they deviated far from the regular 4-series. The M4 and its four-door sibling, the M3, are blessed with massive changes, and they are all good. The front suspension gets aluminum control arms, wheel carriers and subframes; there is a carbon-fiber strut brace in the front; in the rear, BMW has fitted a five-link axle with forged aluminum control arms. The rear subframe is bolted directly onto the body. And the M4 gets a unique electric steering system. Manual-transmission cars get a specific gearbox, and those who couldn't be burdened with operating a clutch get a dual-clutch transmission instead of the base model's torque-converter slushbox.
Now BMW has taken the M4, tweaked and refined it even more – and turned it into a veritable technology showcase. It's called the M4 GTS – a limited-edition version of the M4 that will be built in just 700 units. Some M customers were been invited to order one in advance. Predictably, it sold out in a hurry. We took a close look nonetheless – at the Circuit de Barcelona-Catalunya, a beautiful racetrack that's often used for bike races. But it was perfect for the M4 GTS as well – and vice versa. Designed to compete on the racetrack, yet fully street legal, the M4 GTS comes with extensive modifications to its chassis, powertrain, and body. It's around 30 kg lighter than a regular M4, despite its roll cage and water-injection system (more about it below).
The M4 GTS comes with 265/35 R19 Michelin Pilot Sport Cup 2 tires up front and 285/30 R20 rubber of the same type in the back. The tires are fitted with forged aluminum wheels, but late in the development process, carbon-fiber wheels were added as an option – one that set customers back by a whopping EUR 12,000. Half of them have ordered those wheels. Carbon-ceramic brakes with six-piston calipers up front and four-piston calipers in the rear are standard. Moreover, the M4 GTS is fitted with a manually adjustable coilover suspension. The kinematics of the front axle are modified, and an elastic element in the steering column has been deleted for more precision.
BMW couldn't leave the engine alone, either. To squeeze an extra 50 horsepower out of it – and that's compared to the Competition package, not the regular M4 -, they added a well-proven high-performance and racing technology that hasn't been utilized by a major carmaker in decades: A water-injection system, with a 5-liter water tank mounted in the trunk, and three high-pressure injectors up front that feed two combustion chambers each. The M4 GTS is virtually a custom-built vehicle, but if water injection systems enter larger-scale production, the packaging could become more efficient.
The water injection helps to cool down the intake air significantly; allowing for increased performance – without a penalty in efficiency and emissions. Thanks to 500 horsepower and 600 newton meters of torque, the most extreme M4 to date charges to 100 kph in just 3.8 seconds and tops out at a governed 305 kph. Don't ask us why BMW thought it was necessary to set an artificial ceiling to this car's high-speed oval capabilities. Compared to the standard M4, the GTS clearly feels more powerful and extreme. It launches like a missile, the soundtrack is furious, and it responds much more sharply than a regular M4.
The stability control system can be adjusted in several levels; the intermediate setting allows for significant drift angles, but it's a good thing the system can be switched off entirely. There is virtually no turbo lag, and the car charges forward with incredible urgency. Turn-in is ultra-sharp, there is always enough torque to steer the car with the rear axle, yet this oversteer is easily controllable, and the car is never intimidating to the expert or even the aspiring amateur.
The interior is significantly altered, with seats that sport a carbon-fiber frame. We recommend the no-cost Clubsport package: Then, the M4 GTS comes with six-point harnesses, a visible fire extinguisher, and a roll cage. The door trim is unique as well, with a frugal strap to close it, and light-weight cladding that looks like it comes straight out of an i3 (because it does). Instead of a wood or aluminum strip, the decor is alcantara, and it is inscribed: GTS.
The exterior has been tweaked as well – to enhance aerodynamics, and to add some visible changes. Enhancements include a carbon-fiber front hood with a large opening that optimizes air flow, an adjustable front splitter, and a large, adjustable carbon-fiber rear wing. The taillights are an industry first: The M4 GTS is fitted with organic OLED taillights – a few months ahead of the Audi TT RS. These ultra-thin lighting units emit extremely homogenous light which cannot be replicated with any other lighting technology on the market.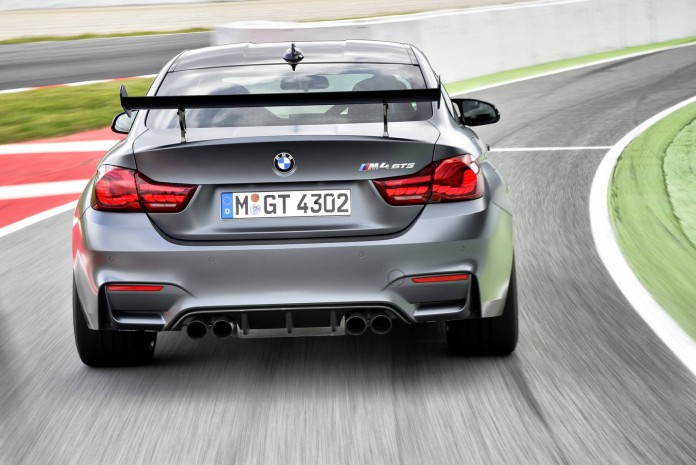 The M4 GTS was launched in "frozen dark grey," with "acid orange" accents. There is also a metallic grey; the two other colours are white and black. Those four colours constitute the entire palette – and BMW M GmbH chief Franciscus van Meel tells us that none of his customers has requested a different colour yet.
From behind the wheel, the M4 GTS is closer to a Porsche 911 GT3 than to any competitor in this segment; it simply blows away the competition. This, combined with the fact that it is certain to become a collector's item, makes the EUR 130,000-plus price look reasonable. Just remember, it's sold out. But if you are nice to one of its 700 owners, you might be able to acquire a second-hand example down the road.