Following the announcement and our first drive of the 718 Boxter, German manufacturer Porsche has just taken the wraps off the new Cayman at the Auto China 2016 Motor Show, meet the 2017 Porsche 718 Cayman. The 718 Cayman, the forth iteration of the sports coupe, features a new cleaner more planted look.
As with the 718 Boxter, the most significant changes are found under the hood with new flat-four turbocharged 'boxer' engine delivering upwards of 300 horsepower. For the first time, the Boxter and Cayman both pack identical punches.
Where the 718 Cayman is powered by a 2.0-litre engine, the Cayman S features a 2.5-litre engine the produces a handsome 350 horsepower. Furthermore, The base model Cayman produces a maximum of 380 newton metres of torque and the Cayman S delivers up to 420 Nm. This translates into especially dynamic performance; the 718 Cayman with PDK and optional Sport Chrono Package sprints from zero to 100km/h in 4.7 seconds. The 718 Cayman S completes this sprint in 4.2 seconds. The top speed of the 718 Cayman is 274km/h, and the 718 Cayman S can reach a speed of 285 km/h.
On account of the new car's greater driving performance capabilities, stronger brake systems are now in use with 330 mm brake discs in front and 299 mm discs at the rear. The 718 Cayman features the brake system that was previously used in the Cayman S. The 718 Cayman S in turn uses the four-piston callipers of the 911 Carrera, combined with 6 mm thicker brake discs.
Porsche promises that the 718 Cayman and Cayman S have revised chassis that have been tuned for greater precision and more cornering stability, something that the mid-engined layout has been very good at.
The interior features a number of small revisions such as the 918 inspired steering wheel. Furthermore there is the option for Apple CarPlay, satellite navigation module with voice control and the Porsche app integration.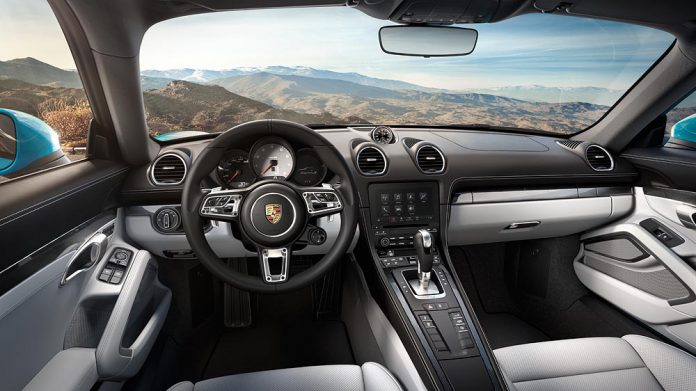 We eagerly anticipate getting behind the wheel of the 718 Cayman and hope that it can impress as much as the 718 Boxter did.