British automaker Aston Martin have just announced the limited production Aston Martin Vantage GT8. The most extreme Aston Martin V8 Vantage to be built with true racing DNA will be strictly limited to 150 units.
The GT8's official announcement came together with the following words: "Racing is in Aston Martin's blood. From outright victory at Le Mans 24 Hours in 1959, to countless race wins in GT3 and GT4 categories and a continued race and title-winning form in the production-based GTE category of the FIA World Endurance Championship (WEC), Aston Martin is proud to be at the forefront of GT racing."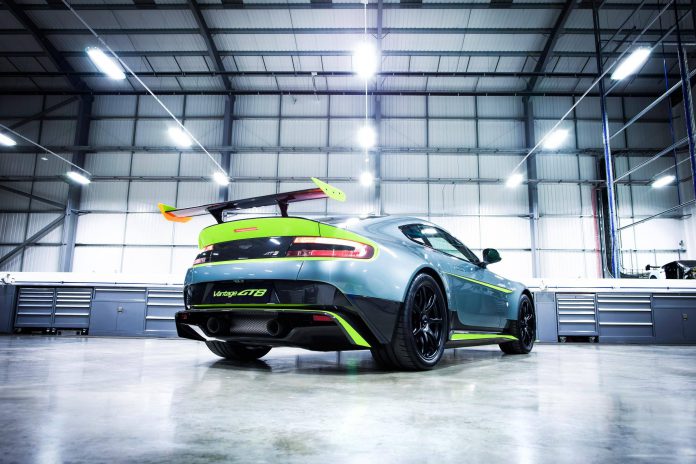 The Aston Martin Vantage GT8 is inspired and influenced by Aston Martin's V8 Vantage GTE race car. The GT8 is a hundred kilograms lighter and that's just the start of a range of upgrades that have established the ultimate road legal V8 Vantage. Being the lightest and most powerful V8 Vantage ever built, the GT8 is sure to push the brand's performance to new boundaries.
Besides the car's more aggressive stance, it also received an update under the hood. Aston Martin's characteristic 446PS1 4.7-liter V8 has been revised and comes paired with either a six-speed manual or seven-speed SportshiftTM II paddle-shift transmission. Especially the fact that customers can opt for the manual transmission is a bulls eye shot, promising a driving experience that's second to none.
The 4.7-liter V8 has been fine-tuned to produce 440 break horsepower and 490 Nm of torque at 5,000 rpm. While no official performance charts have been released so far, Aston Martin predicts that the car rushes to 60 mph (96,5 km/h) in 4,4 seconds and tops out at 190 mph (305 km/h). A big factor in this improved performance is without a doubt the extensive weight savings program. Shaving off around a 100 kilograms in total brings the GT8 to an estimated curb weight of 1510 kilograms.
Part of that weight savings program are the fitting of a lithium-ion battery, and optional weight saving procedures including a carbon fiber roof, polycarbonate rear screen and rear side windows and a titanium centre mounted exhaust. On the inside further weight is saved by installing the lightweight carbon fiber sport seats with manual adjustment.
Visually the Aston Martin Vantage GT8 clearly shows-off its racing roots. The widebody GT8 features extensive use of carbon fiber components starting with the front splitter, front and rear bumpers, fenders, side sills and rear diffusor. Customers looking for an even more extreme aero configuration can opt for the optional "Aero Pack", which comprises of an even larger rear wing and added corner elements to the front splitter.
The GT8 also features new five-spoke alloy wheels, while ultra-lightweight seven-spoke center-lock magnesium rims are optionally available. Both the five- and seven-spoke wheels come with Michelin's Pilot Sport Cup 2 tires. To further enhance the car's road presence three optional 'Halo' paint schemes are available; a combination of China Grey and Blue, Stratus White and Green or Stirling Green and Lime are to accentuate the car's exclusive exterior design.
For the exclusive car's interior there are many packages available to personalize and match with the exterior. Customers can choose between a spectrum of leather and alcantara styling packages, extra carbon fiber elements, gloss black accents, Bang & Olufsen speaker system and contrasting stitching. The car comes with an infotainment system as standard and has all of the latest tech that we know from the regular Aston Martin V8 Vantage.
Director of Special Projects and Motorsport, David King said: "We long held the desire to create a road car that truly reflects our racing activity at Le Mans. With the Vantage GT8, we've finally been able to achieve that. By focusing on weight savings and aerodynamics, we've taken the V8 Vantage to an entirely different level of agility and aggression. It's a hugely exciting car honed to the keenest possible edge."
Deliveries of the limited production Aston Martin Vantage GT8 will commence in the 4th quarter of 2016. Advised retail prices start at 165,000 GBP ($235,000).