Visually it's clear at first glance that this is no standard Audi A4. With 34 mm more ground clearance, the car certainly is able to conquer almost any terrain that SUVs can cope with. But will the typical A4 allroad customer make use of those abilities? Considering that the majority of SUV drivers never go offroad its debatable if the offroad capabilites of the latest A4 allroad quattro are a major selling point.
Instead, the unique look and a variety of other features that I enjoyed testing seem to be what triggers interests in this niche car. This didn't stop me however from putting exactly those offroad abilites to the test, when I drove the B9 Audi A4 allroad last monday. It has the looks and figures of an offroad car after all.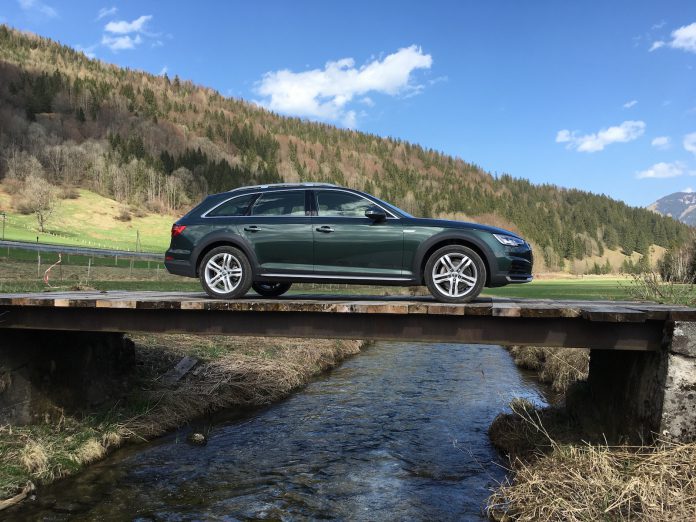 The car focuses on the European market, which loves station wagons due to their great usability and large extra space they offer. It will however, unlike the standard A4 Avant, also be sold in North America and China.
But lets first look at the specs of the car. I had three powertrains to choose from and I began with the 272 hp and 600 Nm 3.0l TDI, currently the most powerful engine option. There is another 2.0l TDI option with 190 hp and 400 Nm as well as one 2.0 TFSI petrol engine with 252 hp and 370 Nm of torque. Later this year an entry diesel version with a 2.0l TDI and 150 hp will be available too. Except the most powerful 3.0 TDI, all of the cars are equipped with Audi's 7-speed dual clutch gearbox S-Tronic. The 3.0l TDI however comes with the 8-speed tiptronic, a regular but rather quick-shifting automatic gearbox.
The exterior of the car presents a big difference to the standard A4, with its large offroad parts that come either painted in exterior color or textured grey matt. The front looks more aggressive with its vertical chrome louvers of the single-frame grill and the headlights have also been redesigned and now come with optional LED lights. The rear bumper has been redone and the rear diffuser as well as the underbody protection are finished in selenite silver.
The interior looks and feels premium, especially the soft leather dashboard and the aluminium interior panels give it a very upper class look. The full leather multi-functional steering wheel provides optimum grip.
What I liked more was the full digital Audi virtual cockpit with a 12.3 inch large TFT screen showing the once analog gauges clearly and precisely as they get recalculated 60 times per seconds. The optional Bang & Olufsen sound system is the first 3D sound system in a mid-sized class car.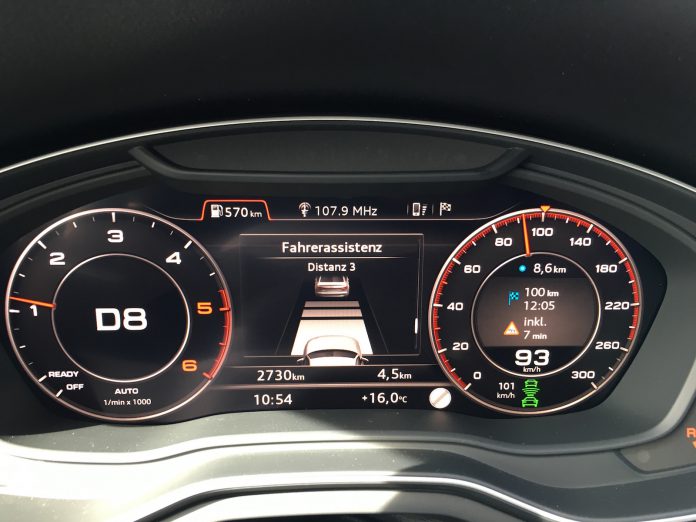 The luggage compartment has a capacity of 505 liters and 1510 liters with the rear seats folded.
Audi Drive Select enables the driver to choose from six different driving modes if the car is equipped with the optional suspension system with damper control. Five of those (Comfort, Auto, Dynamic, Efficiency and Individual) might already be familiar to Audi customers, however the Offroad mode, where all parameters are set for best operation on light offroad terrain, is new in the latest A4 allroad quattro.
Quattro with ultra technology
It's quite a big thing for Audi to alter their quattro AWD system because there is hardly any other feature that is so strongly connected to the Audi brand as quattro. Therefore it was the highest priority to not compromise the AWD system at all, an Audi engineer told us. What the ultra technology essentially does, is it changes the quattro from a permanent AWD system to an AWD system that powers off the rear wheels and only uses FWD when AWD is not needed. This happens within 0.2 seconds, proactively and unnoticeable. So anybody who buys an A4 allroad will get a full-fledged quattro AWD system, with the advantage of better fuel economy and less wear on the parts because a sophisticated two clutch system makes sure that the change between AWD and FWD drive happens absolutely unnoticed and AWD is always available when needed.
I was demonstrated this feature with a software that makes the switch between AWD and FWD and the corresponding torque to the wheels was visible on a tablet, it was impressive to see how good the result was. I sincerely couldn't tell when the changes between AWD and FWD happened.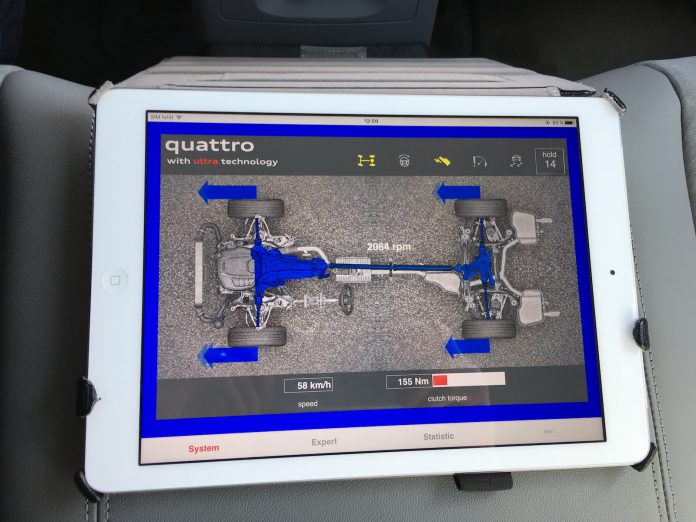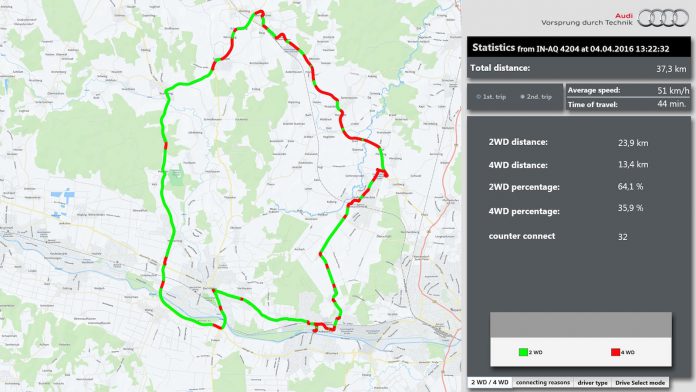 The new quattro with ultra technology will now be implemented gradually with every other Audi where the S-Tronic dual clutch gearbox is used and where fuel economy is a major selling point. It will not be implemented in the more powerful variants, S or RS models.
Driving impression
How does the A4 allroad drive? Well to be honest, the first thing that surprised us, was the absolute silence in the cabin, even when I was going over 200 kph on the German Autobahn. I could easily talk to my passenger without having to speak up. This is due to double-glazed windows on the driver's and passenger's door that significantly improves wind noise from the outside.
Next I put the car in Dynamic mode on some twisty b-roads and throttle response immediately became sharper and more responsive. Handling is improved by stiffer dampers and more direct steering. The car immediately felt like a sporty version of its own and I totally forgot I was sitting in a car that has offroad capabilities that come close to many SUVs.
In comfort mode long stretches on the Autobahn can be done easily, especially when adaptive cruise control is on, which helps accelerate and brake automatically. Lane assist helps putting the car back on track if the driver tends to get too close to the side of the road. Other assistant systems include traffic jam assist, park assist, rear cross traffic assist, collision avoidance assist and Audi pre-sense city.
All driver assistance and safety systems of the A4 model series are available in the new A4 allroad quattro, and if the A4 allroad quattro is used as a tow vehicle, the optional trailer maneuver assist helps in steering the car-trailer combination backwards.
The Competition
The A4 allroad quattro and its bigger brother, the A6 allroad quattro are quite unique niche cars and there isn't much competition from other manufacturers.
Conclusion
The 2017 Audi A4 allroad quattro is a cool alternative for everybody who enjoys being a little bit of an extrovert and although the allroad will be used offroad just as little as most SUVs, it is still capable of doing very well on tough terrain. Combined with a lot of storage space and high driving comfort but still enough dynamics to have fun in corners of twisty b-roads, the car offers a lot of variety and suits pretty much everybody's needs. Order books are already open and the first cars should arrive in the dealerships in Summer 2016. Pricing starts from 49'750.- Euro including 19% German VAT for the 3.0 TDI.