The new Porsche 911 R could be categorized as one of best cars at the 2016 New York International Auto Show money can't buy. After seeing it for the first time earlier this month in Geneva, we decided to take a detailed look once more because the exclusivity of this specific car probably means chances are minimal we're ever going to see it on the streets.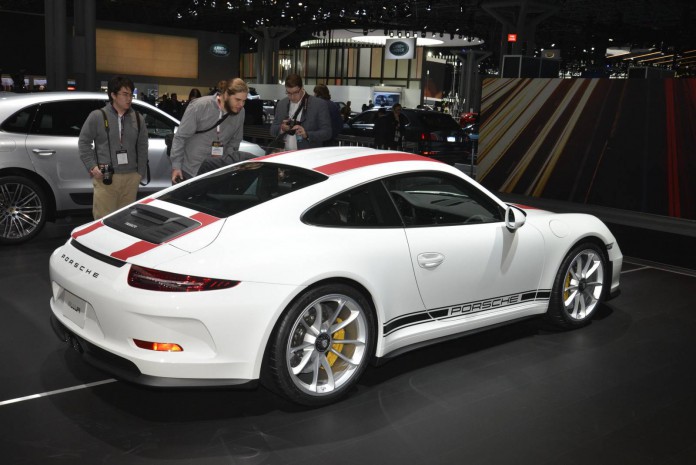 The Porsche 911 R is a perfect example of a car staying true to its roots. The interior has been stripped out and arguably the car's most vital component that makes it so valuable is of course the six-speed manual gearbox.
The engine is the 4.0-liter naturally aspirated flat six that we know from the GT3. The 500 hp and 460 Nm of torque power the car's rear wheels and the impressive weight savings on this vehicle boast its performance even more. Despite the lack of aerodynamic parts, the 911 R is still a track car pur sang and its performance figures are a testament to that statement. From zero to a hundred in just 3.7 seconds and a top speed of 323 km/h make the 911 R everything but a lightweight when it comes to performance.
The car's styling package too, is a hint at the 911's heritage. Porsche have really managed to make this 911 stand out while essentially it's just a GT3 with the immense spoiler hacked off. Several fancy options such as carbon fiber bucket seats are exclusive to the 911 R and add to its uniqueness, besides the limited production count of course.
For all the ins and outs on the already sold out Porsche 911 R, make sure to visit our earlier article. For more on the 2016 New York International Auto Show, make sure to visit our dedicated news channel.