Williams has today revealed their 2016 Formula 1 challenger, the Williams Mercedes FW38. The car will make its official track debut next week at the pre-season testing in Spain.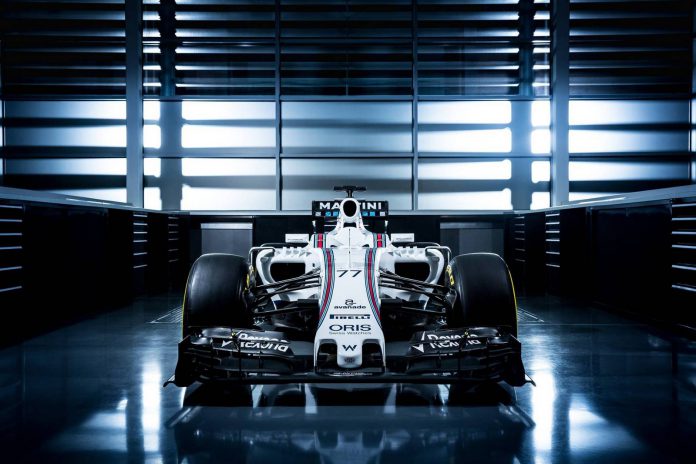 Just like the previous two seasons, the new FW38 has been adorned with blue, red and white stripes of the Martini Racing team. Williams finished the 2015 season with four podium wins and 3rd in the championship standings – second time in a row.
Felipe Massa and Valtteri Bottas will team up once again for the 2016 season to further the team's goals of winning a championship. Williams has won nine constructors' championships in the past between 1980 and 1997, they have a record of 114 race wins coupled with 128 pole positions.
The monocoque construction of the FW38 has been laminated from carbon epoxy and honeycomb to pass FIA's impact and strength requirements. The front suspension uses push-rod springs – a move that Ferrari has adopted with their 2016 challenger – while the rear suspension gets pull-rod activated springs.
The Mercedes-Benz PU106C Hybrid power unit is mated to a Williams 8-speed sequential semi-automatic transmission.
Quotes:
Sir Frank Williams, Founder and Team Principal: "Williams has started to cement our position back amongst the front running teams after finishing third in the Championship in the past two seasons. This has been a great achievement given the resources of those around us. Staying where we are will be a challenge in itself, but we are determined to keep improving because only winning will ever be good enough.
"We have a very stable team going into 2016, with Felipe and Valtteri teaming up for a third successive season. They work well together and both have the ideal blend of speed and consistency. Our technical team has also remained very consistent which will be to our advantage and we have some of the best engineering minds on the grid at our disposal."
Felipe Massa: "Securing third in the Constructors' Championship for two consecutive years is a great achievement and one that comes with a lot of expectation – a momentum which I am excited to build on going into the new season. The team at the factory have worked really hard on the new car and we have spent a lot of time understanding where we need to improve. I have a lot of confidence in the team at Williams and I'm looking forward to getting behind the wheel of the FW38 to see how it performs. I'm equally delighted to be teammates with Valtteri for another year. He is a very talented driver who brings a lot to the team."
Valtteri Bottas: "This is always a really interesting and exciting time of the year because we have a new car and we can't wait to get it out on track to see how it feels and how fast it is. It's been a good winter and from what I've seen we seem to be headed in a good direction with this car. Testing next week will be our chance to see how our performance has improved since the last race. The development of the FW38 has been all positive in theory, now we just need to see it on track."