GTspirit always strives to find the most luxurious and unique locations to stay at. Since it's winter time in Europe, we wanted to combine our stay with skiing and what we found was truly extraordinary. Although not officially classified as a five star hotel, simply because there is no classification for ski lodges, keep reading to find out why the Wedelhütte in Austria stands out in many different ways from other five star accommodations in the alps.
The Location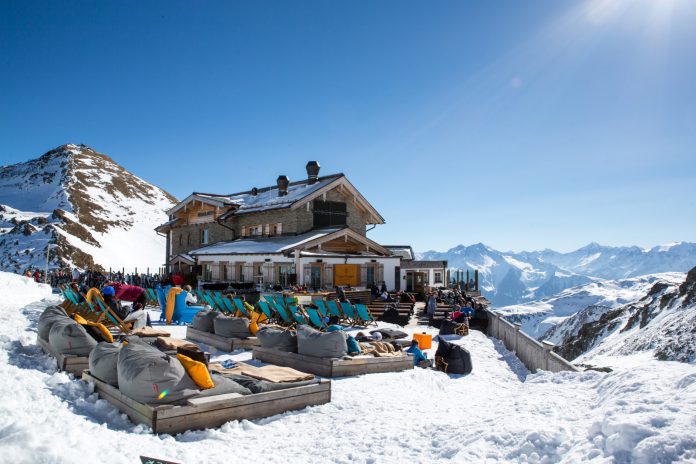 Situated on 2350 meters above sea level amidst the beautiful slopes of Kaltenbach and Hochfügen ski resorts in Tyrol, Austria, the Wedelhütte Ski Lodge is surrounded by mountains that invite you for skiing in the winter or hiking in the summer. The only way to reach Wedelhütte, is via cable car and then on to one or two more chair lifts.
After parking the car at the base station of the Kaltenbach ski resort, you buy a ski pass and take your luggage together with your ski gear in the cable car. Once arrived at the mountain top, you drop your luggage at a designated box. After skiers leave the mountain around 4 pm, your luggage will be picked up by Wedelhütte staff using a ski-doo and eventually brought to your room.
Besides functioning as a lodge, the Wedelhütte also accommodates many daytime visitors for breakfast, food and drinks. Fortunately, the 11 rooms for guests staying over night are secluded in the lower part of the lodge, so you are not bothered by the bustling daytime activity.
The Rooms and Suites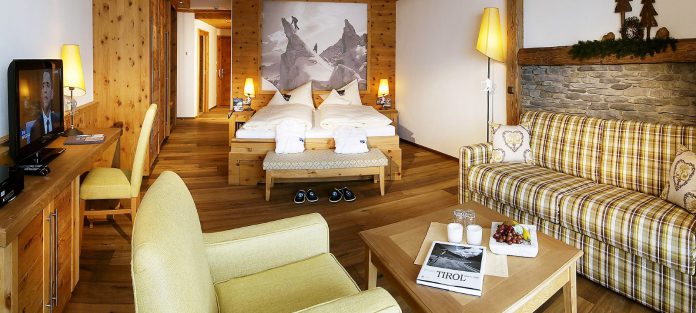 The hotel has 11 rooms, all of them classified as suites, bringing the Wedelhütte's total capacity to 26 beds. There are nine junior suites with 48m² of floor space for a maximum occupation of two guests, and then there are suites Alpenblick SPA DELUXE (70m²) and Gipfelglück SPA DELUXE (120m²) for a maximum occupation of four guests. All of the suites are appointed in traditional Tyrolian style with lots of wooden decor that provides a very cozy feeling.
The bathrooms are spacious and modern with a large rainshower and the highlight is the private infrared sauna for two. Behind the panoramic windows, all of the Junior Suites have a sun-facing balcony with commanding views of the quiet mountains. WiFi and a Nespresso coffee maker are standard, as well as a flatscreen-TV, DVD player and bluetooth iPod-docking-station.
Suite Alpenblick (70m²) additionally offers a second flatscreen-TV, two separate bedrooms, a design bathtub and private sauna on the terrace while Suite Gipfelglück (120m²) comes with two separate bedrooms, a living room with a traditionally Austrian tiled stove, as well as three flatscreen-TVs, a private sauna and jacuzzi on the terrace that is heated and sheltered from the wind.
After silence has come to the slopes and the skiiers left the resort, it is worth sitting on the balcony for a minute or two. The total silence is something we have never experienced before, truly magical. Especially because we were lucky to have clear skies that night, with countless stars filling the sky as well as almost a full-moon lighting up the night.
Prices in the winter season currently range from 420 Euro to 590 Euro per room per night in double occupation.
The Jacuzzi and SPA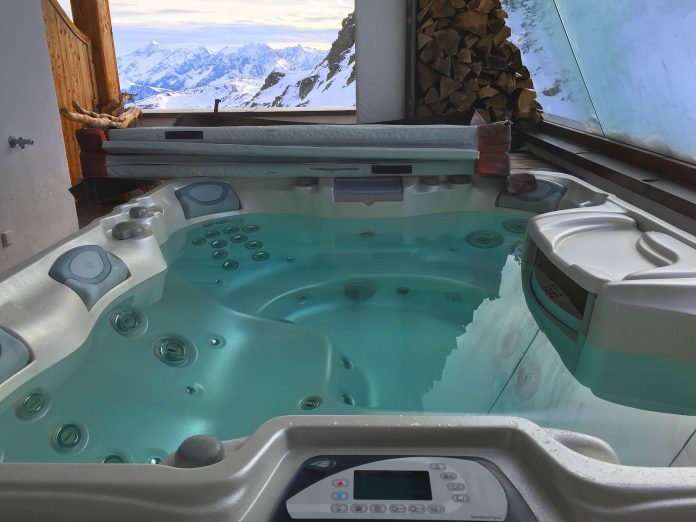 The SPA area is reasonably large considering this is a ski lodge. Part of the SPA area are a finnish sauna, a steam bath, raindance and a flood shower. After a relaxing stay in the sauna, the clean mountain air on the terrace really gives you a refreshing feeling.
On the terrace there is also a jacuzzi where one can enjoy beautiful mountain scenery. No worries, large glass windows protect you from snow and wind. Especially in the evening this creates a very special ambiance. To indulge yourself there is plenty of juice, fresh fruit and healthy snacks available in the relax area. A small gym with an ergometer and an elliptical machine are available as well.
Restaurants & Bar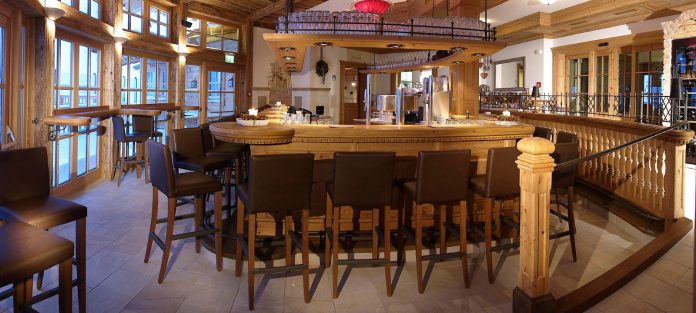 Since it is rather difficult to find food on the slopes as soon as the lifts stop for the day, it makes sense to include half-board with every overnight stay. Half-board on the Wedelhütte means a sumptuous breakfast including egg dishes, coffee specialities and fresh juices. After skiing a light (sweet and hearty) snack is served from 15:30 for about an hour. During our stay this included wild garlic soup, potatoes and smoked meat with poppy-seed cake for dessert, all of which was delicious! The vitamin- and juicebar in the SPA area are included with your stay as well.
For dinner, cheese and antipasti are served at the Panoramic Bar, followed by a four course (five course on Saturdays) meal in the Fireplace-Restaurant. The four course meal offered a choice of two different starters, a soup, a choice of two main courses and a choice of two desserts. We opted to go for the beef duet (carpaccio and tartar), curry-cream-soup, grilled brook trout with lemon-couscous and okra. For dessert we chose the mango-parfait accompanied with pineapple chutney and nougat. Sounds delicious? It sure was!
A wine arch holds a multitude of domestic and international wines to be served and the location can also be rented for conventions, weddings or parties. The Wedelhütte Ski Lodge surely is a truly unique spot to host any kind of event.
The Ski Resort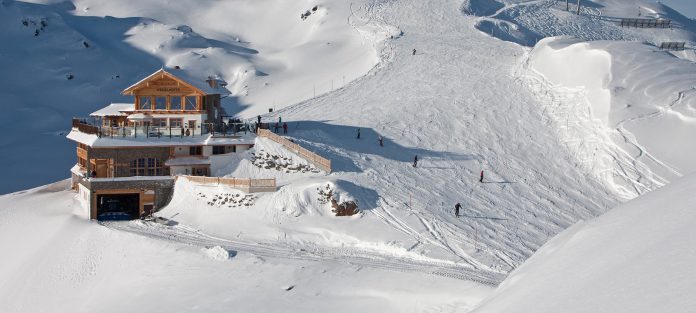 The Ski Resort Hochzillertal can be reached by two villages, Kaltenbach and Hochfügen. From there the slopes are interconnected and offer 89 km of skiing fun in total. The top mountain station comes at an elevation of 2360 meters and is reached through the last chair lift, Wedelexpress.
From there it is just a quick walk to the Wedelhütte as it is almost on the same elevation. About 32 km of the slopes are marked as blue, 33 km as red and 14 km as black, so there is enough choice to fit everybody's skills. The 37 lifts are running every day from 8:00 to 16:00 and the current winter season ends on April 10th 2016.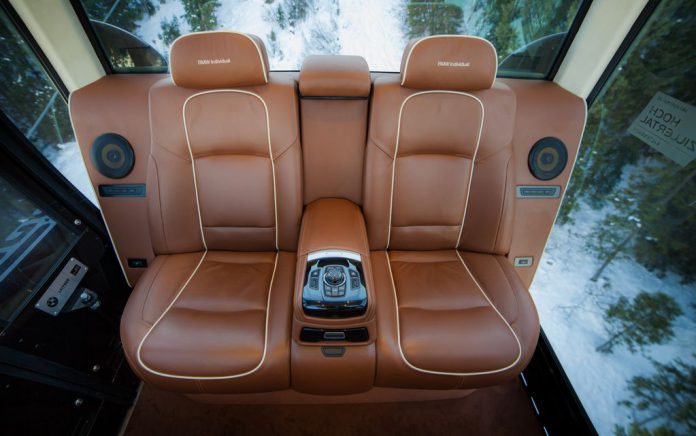 For those who would like to start their ski day with a little extra luxury there is a VIP gondola with BMW 7 series leather seats including massage function and multimedia system. Included in the ride is also VIP parking, concierge service and champagne reception. For the price of 190 Euro (as of January 2016) including two ski passes and lunch with accompanying wines at the Wedelhütte, this is certainly an exceptional experience for two.
Conclusion
Opened in 2009 the Wedelhütte now runs in its seventh year and still looks like brand new. We were really impressed how well everything is kept in shape and what level of luxury is possible at such a remote location. If you fancy staying at one of the most unique ski lodges in the alps, make sure to book in advance, because the 11 rooms sell out quickly. If there isn't, by chance, a cancellation of a room (check their Facebook for that) then reservations go well into next winter already.
To make a reservation check out their Website.