Certainly one of the highlights of SEMA 2015 is this; the BMW Z4 GT Continuum from American tuning company Bulletproof Automotive. The car has been adorned with an entirely bespoke body to turn it into one of the world's boldest and most overtly insane speedsters ever conceived.
At the front, Bulletproof Automotive has constructed a bespoke bumper with reshaped air intakes as well as dual canards on either side. Additionally, new sculpted and widened front wheel arches are included as is a custom bonnet.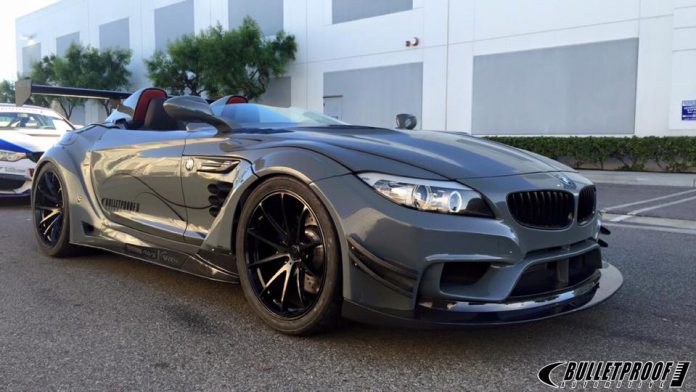 Moving towards the sides, the Z4 GT Continuum has new side skirts, matte black side-exiting triple exhaust pipes and different wing mirrors. As mentioned, the Bulletproof Automotive Z4 is a speedster meaning it utilises a small windscreen with the cabin complemented with high buttresses on the rear decklid.
While the front and sides are certainly noteworthy, the rear-end is arguably where all the action is happening. Alongside the buttresses, it includes a towering rear wing as well as a devilish-looking rear diffuser with protruding fins.