A new prototype of the next-generation Mercedes-Benz E-Class has just been spied testing. What makes this particular test mule interesting is the fact that it is wearing essentially no camouflage and therefore provides us with an almost completely unimpeded view of its overhauled design.
As expected, the new E-Class will look very similar to the existing C-Class and S-Class models. Consequently, it will make use of a similar grille as well as headlights reminiscent from its sedan brethren and a selection of other current Mercedes-Benz E-Class models. This particular prototype is also riding on a set of interesting multi-spoke wheels which could be fitted as standard to the new E-Class.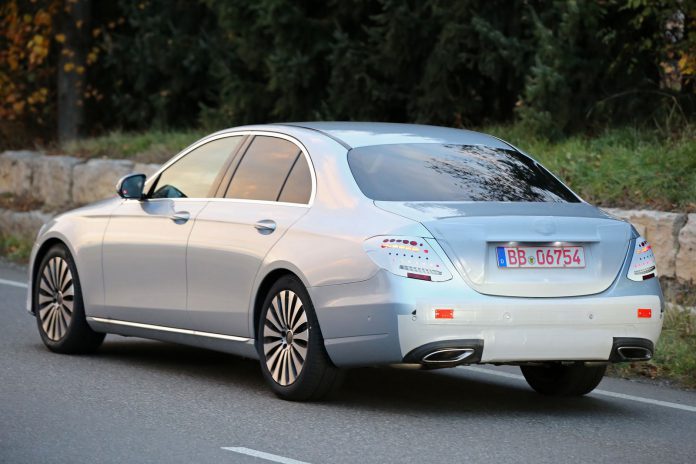 Elsewhere, the sides of the E-Class are particularly eye-catching thanks to two prominent body creases running from the front of the side skirt to the rear wheel arch as well as one from the front wheel arch, piercing through the door handles and tapering off to the edge of the taillights. Those taillights also bare obvious similarities to existing E-Class models while the bumper and chrome tailpipes are also very familiar.
Underpinning the new E-Class will be the same MRA platform as the C-Class. Thanks to the new underpinnings alone, the 2016 E-Class is expected to weigh about 100 kg less than the outgoing model.
Elsewhere, the new Mercedes-Benz E-Class will mark the German firm's return to inline-six cylinder engines in favour of V6s (excluding the aforementioned V6 hybrid model). The inline-sixers will be offered in petrol and diesel forms with the first pinned to be a 2.9-litre diesel engine delivering 313 hp when combined with two turbochargers. An additional version of this engine will be offered with four turbochargers two of which will be electrically-driven units to improve efficiency.