While it isn't known just how many Liberty Walk Lamborghini Aventadors there are, each and every one is absolutely insane to look at and in our eyes, the more the better. Most recently, the Japanese tuning company has finished work on its latest Aventador and this one is particularly noteworthy for a couple of reasons.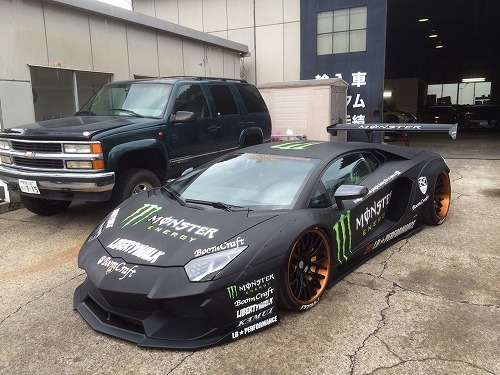 For starters, it has been designed to complement the Liberty Walk Lamborghini Murcielago drift car recently revealed and set to be soon driven by Daigo Saito. With that in mind, it has a matte black wrap as well as a selection of Monster Energy stickers across the bonnet and the doors. It is also distinct from other Liberty Walk Aventadors thanks to the custom wheels featuring black spokes and bronze outer rims.
See Also: Daigo Saito's JZX1000
Elsewhere, the car has been adorned with all the typical Liberty Walk upgrades. They include a new front fascia with a custom splitter and of course, flared front and rear wheel arches. Additionally, it includes extended side skirts and an insane rear fascia incorporating a massive wing and diffuser. An air suspension system has also been installed.