The Porsche Mission-E Concept was unveiled at the IAA Frankfurt Motor Show 2015 during the Volkswagen Group Media Night. Previewing a potential new electric sedan to rival the Tesla Model S, the Mission-E Concept was an unexpected debutant at the show. We snapped some live pictures of it.
The Porsche Mission E can be charged with enough energy for around 400 km more driving range in about fifteen minutes. It uses an 800-volt technology, double that of today's electric vehicles. It can be charged via a port integrated into the front left wing or induction charged through a coil embedded into your garage floor. It features over 600 hp as well as an impressive 500 km driving range.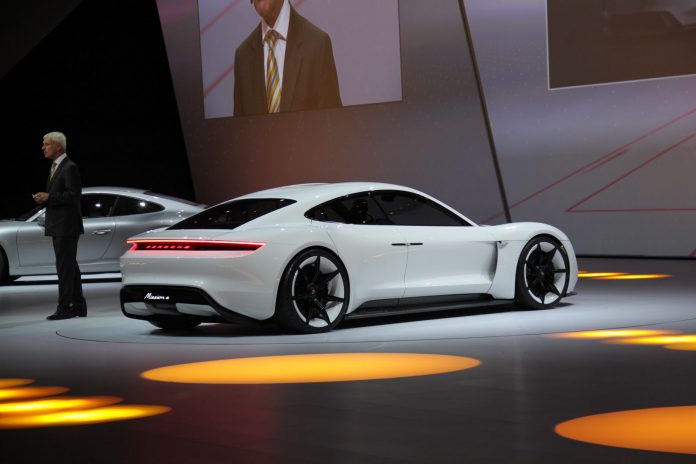 The Porsche Mission E accelerates from 0 to 100 km/h in under 3.5 seconds thanks in part to its all-wheel drive system. It seems that Porsche have already estimated a sub-eight minute Nurburgring lap time owing to torque vectoring and all-wheel steering.
Visually, the Mission-E Concept takes obvious design inspiration from a number of other Porsche models yet still stands on its own two feet. At the front, the bonnet and front wheel arches are reminiscent of the Porsche 918 Spyder.
For more about the Porsche Mission-E Concept, see our previous post. For more from the IAA Frankfurt Motor Show 2015, check out our dedicated news channel.