At next month's Chubb Insurance Concours d'Elegance at Salon Prive 2015, a plethora of truly exceptional cars are set to be displayed within the Chubb Lounge.
There will be ten different classes of cars featured at the Chubb Insurance Concours d'Elegance with each incorporating some very special cars. In Class A: Pre-war Luxury & Touring, there will be the likes of a 1902 Oldsmobile Curved Dash Two-seater Runabout and a 1937 BMW 328. In Class B: Wind in Your Hair, highlights will include a 1965 Ferrari 275 GTS, Mercedes-Benz 300SL Roadster, 1961 Ferrari 250 GT Cabriolet Pininfarina Series II and a 1961 Ferrari 250 GT Spyder California SWB.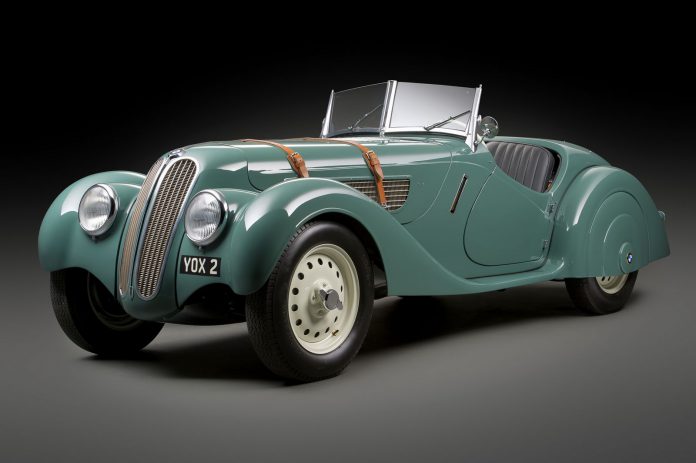 Class C: Competition Cars will include the likes of a 1930 Bentley Speed Six, 1972 Ferrari 312 PB, 1964 Lancia Sport Prototipo Zagato and a 1973 Porsche 911 2.8 RSR. Meanwhile, Class D and Class E will be dedicated to motorcycles of different eras while Class F: Pininfarina & The Prancing Horse will show off seven different Ferrari models including a 1969 Ferrari 265 GTS and 250 GT/L Lusso.
In Class G: Post-war coachwork, they'll be a 1959 Rolls-Royce Silver Cloud I, 1972 Ferrari 265 GTB 4 Shooting Brake and a 1957 Rolls-Royce Silver Wraith among others. Class H: Fixed-head coupes from the 50s and 60s will include a Lamborghini Miura, Jaguar E-Type, Aston Martin DB5 and Class I: Gentleman GT Drivers – To the Track & Back consists of the likes of a 1958 Ferrari 250 GT Berlinetta Tour de France and an AC Cobra 289 among others.
The final participant list
Class A: Pre-war Luxury & Touring
1902 Oldsmobile Curved Dash Two-seater Runabout
1934 Voisin Type C27 Roadster
1937 Bentley 4 ¼ l Sedanca Coupé
1937 BMW 328
1938 Lagonda Rapide V12 Drophead Coupé
1937 Delahaye 135MS Cabriolet
Class B: Wind in Your Hair
1965 Ferrari 275 GTS
1967 Jaguar E-Type Roadster
1958 Mercedes 300SL Roadster
1963 Maserati 3500 GT Vignale Spyder
1961 Rolls-Royce Silver Cloud II Drophead Coupé
1961 Ferrari 250 GT Cabriolet Pininfarina Series II
1947 Cisitalia 202 SMM Nuvolari Spider
1955 Lancia Aurelia B24 Spyder
1955 Goldmanini
1958 Porsche 356 A T2 1500 Carrera GS Cabriolet
1961 Ferrari 250 GT Spyder California SWB
Class C: Competition Cars
1930 Bentley Speed Six
1935 Frazer Nash TT Replica Shelsley
1970 Ferrari 365 GTB 4 Plexiglass
1964 Lancia Sport Prototipo Zagato
1964 Porsche 904 Carrera GTS
1972 Ferrari 312 PB
1955 Austin Healey 100S
1973 Porsche 911 2.8 RSR
1955 Porsche 550A
Class D: Exceptional Motorcycles 1900 – 1939
1903 Ariel No. 2 Motor Bicycle
1929 BMW R62
1929 Norton CS1 500cc
1931 Rudge TT 500
1938 AJS Silver Streak
1938 Triumph Tiger 80
1939 Vincent HRD Series A
Class E: Exceptional Motorcycles 1940 – 1974
1946 Triumph T100GP Prototype
1948 Vincent Black Lightning
1953 Gerosa Sport 125
1955 Wooler Flat Four
1956 Maserati 50/T2/SS
1957 Mondial 175 TV
1957 Norvin Special
1965 Dresda Triton
1971 Norton Commando Fastback
1974 Honda SS250 Super Sport
Class F: Pininfarina & The Prancing Horse
1969 Ferrari 365 GTS
1966 Ferrari 330 GTC
1969 Dino 206 GT
1971 Ferrari 365 GTS 4 Daytona Spider
1974 Ferrari 365 GT4 BB
1972 Dino 246 GT
1963 Ferrari 250 GT/L Lusso
Class G: Post-war Coachwork
1960 Bentley S2 Coupé
1959 Rolls-Royce Silver Cloud I
1972 Ferrari 365 GTB 4 Shooting Brake
1952 Jaguar XK120 Jabbeke
1949 Bentley Mk VI Drophead Coupé
1957 Rolls-Royce Silver Wraith
1950 Talbot-Lago T26 Grand Sport Coupé
Class H: Fixed-Head Coupés from the 50s & 60s
1968 Lamborghini Miura LP400
1961 Jaguar E-Type
1965 Ferrari 275 GTB 2 Long Nose Alloy
1965 Aston Martin DB5
1961 Ferrari 250 GT Berlinetta SWB
Class I: Gentlemen GT Drivers – To the Track & Back
1966 Bizzarrini 5300 GT Strada
1967 Ferrari 275 GTB 4 Berlinetta
1973 Porsche 2.7RS
1960 Aston Martin DB4 GT
1961 Ferrari 250 GT Berlinetta SWB
1965 AC Cobra 289
1958 Ferrari 250 GT Berlinetta Tour de France