There is no shortage of great eateries in London as the city is a smelting pot of cultures and is awash with restaurants that have each stood the test of time. Revolving doors are guarded by velvet ropes that harbour queues that seem more accustomed to a summer vacation theme park than an establishment with a dress code stricter than any rollercoasters height restriction.
However common a sight it may be, there are a few gems that very few are aware of and even fewer have had the pleasure to experience. 45 Park Lane is part of the illustrious Dorchester Group and is situated across the road from the renowned Dorchester Hotel. Unlike the Dorchester there is no crowd, no buzz and just a revolving door guarded by an impeccably dressed doorman, a hint to what a spin through the door reveals. Many know 45 Park Lane to be an "overflow" to the Dorchester. One that lives in such ignorance has no idea of the bliss that alludes them.
Admission is only guaranteed to those who can have their name added to the exclusive guest list as only a handful of reservations are available and for good reason.
On a rainy Monday evening in the company of an equally well seasoned set of tastebuds, we sauntered into the sparsely decorated lobby of 45 Park Lane. A red and white Bugatti Veyron Grand Sport adorned with registration plates from an Arabian state hinted to the luxury that awaited us.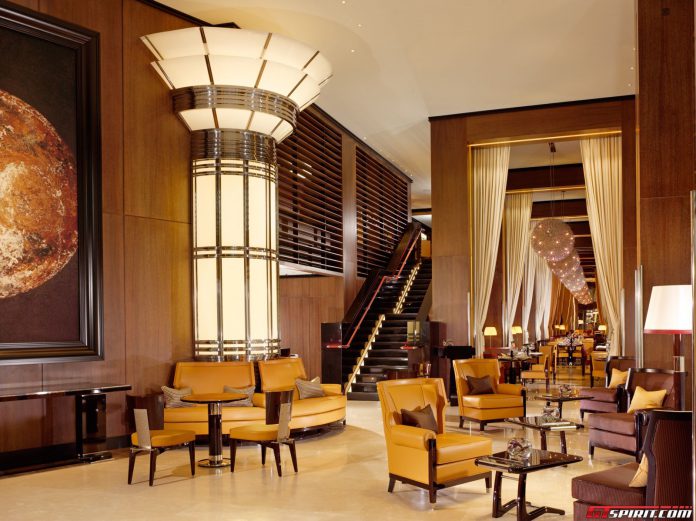 The height of the ceilings were palatial as was the silence that is something alien to a city as densely packed as London. The ambience is like nothing else we have experienced in a London restaurant, it felt as if we were a million miles from Trafalgar Square and busy Bond Street that were merely minutes away. There is the hum of rolling stones playing in the distance complimented by childish giggles of the waiters that manage to double as jesters with their whit and personal service. As with the ambience, the service was fantastic, a double act took drinks orders before comically returning to the table to a stack of raw uncut meat on a tray. Having contained our surprise, we were given an almost scientific analysis of the differences between the steaks available. Wolfgang Puck has gained global fame for the excellent quality of ingredients in addition to the astronomical skill that they are treated to. The options of meat range from American USDA approved, Scottish Angus and pampered Japanese Wagyu. Finding such a range of the highest quality meats is a feat within itself. Alongside the beef, there are a number of inciting fish and vegetable options but steak is what Cut is renowned for.
Our Filet Mignon Wagyu & Scottish Angus cross bred cut had us salivating upon first sight. It was soft, succulent and cooked to the perfection. Accompanied with a side of delicious mushrooms, no less than four choices of mustard from each corner of the world and a pot of the freshest Chimichurri sauce. We were left nothing less than dumbfounded by the taste, cook and texture of the meat, being cooked twice and left to rest is a formula that did not disappoint by any measure.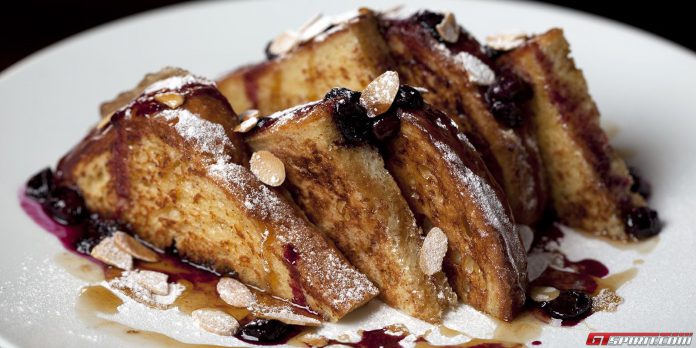 If there was anything more to be excited about than the meat it was the dessert menu. A list of common favourites including Chocolate Soufflé, Baked Alaska and English Meringue all featured. Each was presented so well we felt guilty cutting into them, an emotion that was quickly overridden with pure bliss upon the first taste of each.
Cut by Wolfgang Puck quickly exceeded expectation. The service, ingredients and execution of each and every course left questioning if there was a flaw or drawback at the establishment. Such exclusivity, quality and the culinary experience as a whole came at a price. This is not a restaurant to visit for a quick lunch or rushed dinner and with three courses with drinks comfortably costing more than £150 per person, it is a place to visit on special occasions, there is no occasion we can think of that the Cut 45 Park Lane would leave you disappointed.