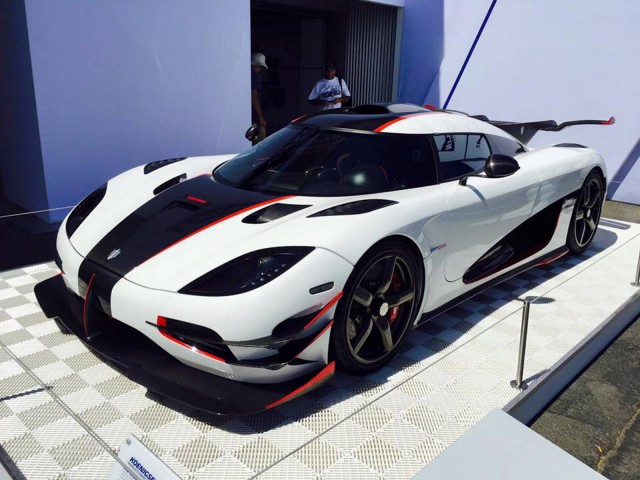 At the recently concluded Monterey Car Week 2015, Koenigsegg unveiled the 7th and final One:1 it is producing. Unlike all other six examples of the Swedish hypercar, the final one is actually heading to its customer in America. As these live images from Monterey show, it is also unlike any other Koenigsegg One:1 produced.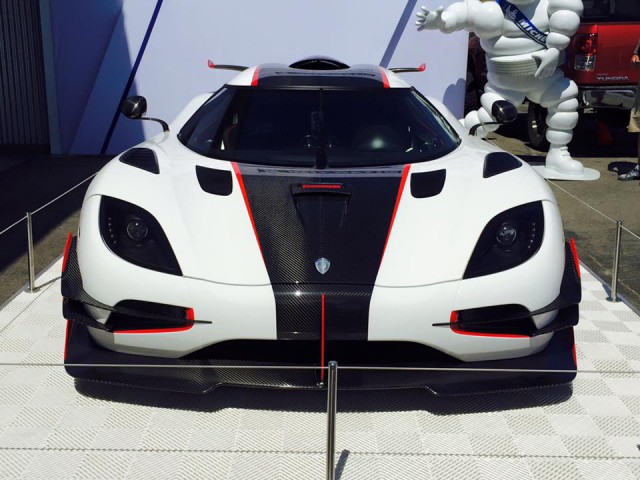 For starters, this example is painted in a bright shade of white which immediately makes it stand out from the others. Alongside the white paint is a carbon fibre stripe running down the bonnet, roof, roof scoop and rear decklid. Carbon fibre splitters, canards, wing mirrors, side skirts and a carbon rear wing are also found. As with all other One:1s produced, this car also features lightweight wheels made entirely from carbon fibre.
Discussing the vehicle's North American debut, the company's founder Christian von Koenigsegg said "Classic Car Week in Monterey is the highlight of the classic and enthusiast motorist's calendar in the United States and it is a pleasure for Koenigsegg to be part of such a prestigious week. To be able to present the One:1 at Monterey is extremely satisfying, a great chance to introduce Koenigsegg's pinnacle performance car to the American market."
Beneath the skin, the Koenigsegg One:1's twin-turbocharged V8 delivers 1341 hp and 1371 Nm of torque. When combined with an overall weight of just 1341 kg, the One:1 features a perfect 1 hp to 1 kg power to weight ratio.
[Via Josh Quiroz]