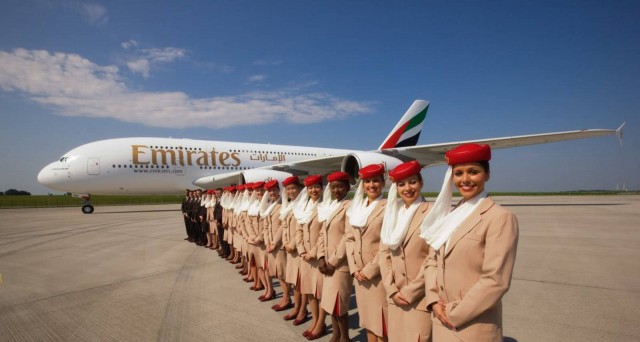 Emirates Airlines announced a new route last Thursday which will see passengers depart Dubai on a 17 hour 35 minute trip. The new route will begin on 1st February 2016 and will be the world's longest passenger flight! Emirates will use a Boeing 777-200LR aircraft for the 8,590 miles which is 10 miles longer than the current record flight.
Qantas currently holds the record with its Dallas-Sydney route. That flight route began in 2014 and uses an Airbus A380-800 for the 16 hr 55 min long journey. The new Emirates route won't be a historic record-setter though. Singapore Airlines achieved that record with its 9,535 mile route between Newark and Singapore which took a staggering 18 hr 50 min.
Emirates, the world's biggest international carrier and the seventh largest airline in the world in terms of revenue, has been undergoing an aggressive expansion recently. It has added routes in Madrid, London, and Melbourne, using Dubai as its hub. It also plans to add further routes including Mashhad in Iran, Orlando, Florida, Bamako in Mali, and Bologna in Italy.
Emirates usual layout for the Boeing 777-200LR includes 8 first class seats at the front of the plane, as well as a further 42 business class seats. The first class seats normally consist of private suites. Emirates new 'private bedroom' first class suites haven't yet been made available for the Boeing 777-200LR, but watch out for those in the near future!
Emirates CEO Sheikh Ahmed bin Saeed Al Maktoum said:
"Panama City will be our first destination gateway in Central America, providing a convenient option for our passengers travelling from or through our global hub in Dubai and onward to destinations throughout Central America, the Caribbean and the northern part of South America,"