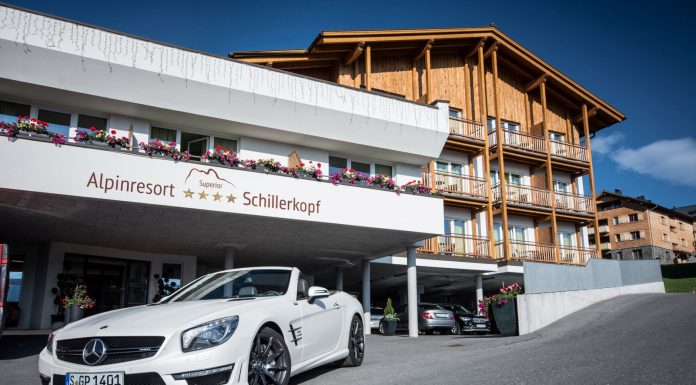 As usual, this year's GTspirit Tour began at the Mercedes-Benz headquarters in Stuttgart from where we headed down to Lake Constance, central Europe's third largest lake, which shorelines lie in the German federal states of Bavaria and Baden-Württemberg, the Austrian federal state of Vorarlberg, and the Swiss cantons of Thurgau, St. Gallen and Schaffhausen.
Not far from Lake Constance, we took our cars into the Austrian alps to the little village called Bürserberg, where we stopped at Alpinresort Schillerkopf for our first night. The approach of this hidden gem is spectacular with only a small road leading towards the hotel where the beautiful alps and the town of Bludenz provided a nice background setting.
The Hotel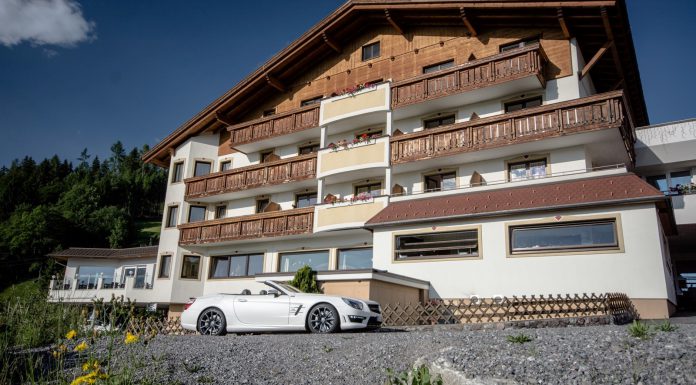 Looking back at almost a century of family heritage the Alpinresort Schillerkopf is now in its fourth generation run by the Bosek brothers Marcel and Roché who have taken over the hotel from their parents in 2003. When opened in 1929, it was a small guesthouse with only 17 shared rooms.
Since the latest renovation in 2012, the hotel now accommodates 70 rooms and suites and particular attention has been paid to the eco-friendliness of the hotel. The hotel generates power through photovoltaics on the roof while heating is provided by eco-friendly wood chips with LED-lighting throughout the resort contributing to saving about 400 tons of CO² per year.
During winter it is possible to reach the hotel directly from the Brandnertal ski resort slopes. In summer time, hiking and biking tours can be taken from the hotel for free.
The Rooms and Suites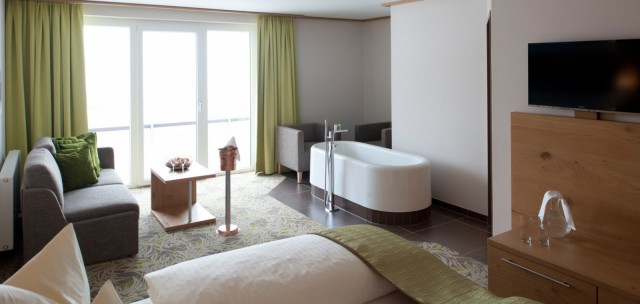 The hotel nowadays accommodates guests in up to 70 rooms and suites which all provide stunning panoramic views of the surrounding, magnificient scenery from the balcony. All of these rooms are equipped with untreated wood from the nearby region and are anti-allergen. Smaller rooms range from around 20 m² while the biggest suites have a spacious size of up to 120m² with two separate rooms as well as two bathrooms. Some of the rooms are equipped with a standalone bathtub and all are equipped with a big shower cabin.
High quality bedding is provided including mattresses with a single fine silver thread that are very comfortable to ensure a good night's sleep. There is also a pillow menu to choose your pillow from so everybody will find the perfect one.
Those who don't like to be woken up by sunlight too early in the morning will be happy to hear that the curtains can be used to fully darken the room. Fast WiFi as well as a flat-screen satellite TV and seating areas are available in every room. Fresh juices, fruit and tea are also available on each floor free of charge and an ample breakfast buffet is also included in every room rate.
The Spa, Pool and Pond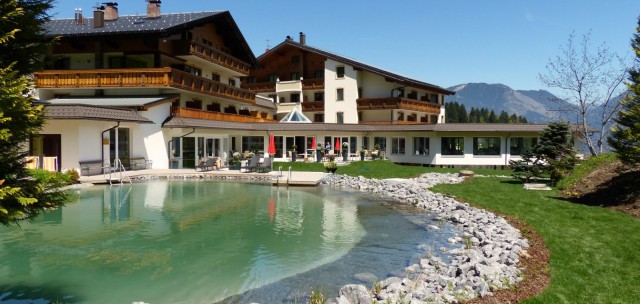 We woke up early the next morning and decided to go for a swim in the hotel pond while the sun was rising behind the mountains and the first rays reflected in the clear water. It was a fresh experience but one to remember. The tranquility and silence around the pond that is surrounded by a magnificent mountain scenery provided a very relaxing atmosphere allowing us to start the day highly refreshed after swimming a few laps. The water comes from a natural fountain which is purified by water plants and an eco-friendly filtering system.
For those who prefer to relax and refresh indoor, there is a beautifully appointed spa area spanning 1300m² with an indoor pool and a sky full of stars above you. Three saunas and a steam room as well as an infrared sauna provide enough opportunity to further relax after a long day of hiking, skiing or biking.
A wide range of fully personalized spa treatments are available and vary from massages over wellness to cosmetic treatments with only natural products and ingredients. All of those treatments are carried out by a graduate specialist, so that you always feel in very good hands.
Dining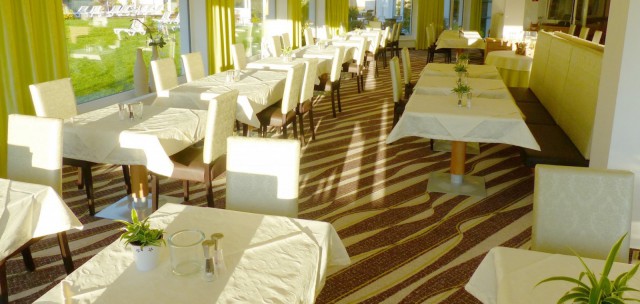 In the gourmet restaurant "MundArt", only the finest ingredients and strictly from local producers will be used to create mouthwatering dishes. We have been able to enjoy a delicious 5-course menu where one could truly experience the local flavors cooked mildly to perfection. Everything used in the kitchen originates from the Vorarlberg area and all produce is fresh without the use of any preservatives. The meat comes from local farmers where the 'history' of each piece of meat can easily be tracked to ensure it is the highest of quality and last but not least, organic animal husbandry.
If you fancy just a quick afternoon snack or a coffee while enjoying the commanding views of the surrounding mountains, then Richard's Bar & Lounge may be the right place for you. Whether you order a Cappuccino in the morning, a homemade digestiv after lunch or a good glass of wine (or beer) in the evening, the bar never fails to amaze with its comfortable lounges. In the summertime you can also have a seat at the sunny terrace and on the weekends there is live music too.
On Saturdays during the summer season you also have the opportunity to experience a delicious smoker BBQ from their special smoker grill. Meat lovers will definitely get their money's worth with the delicious meat dishes in this beautiful setting.
Conclusion
If you are looking for a relaxed getaway in the tranquility of the Austrian alps, the Schillerkopf Alpinresort Bürserberg is truly an extraordinary place to unwind and enjoy healthy food from regional sources. They put a lot of effort in making your stay a relaxing one and we could really feel that.
If you are looking for a special hotel in a fantastic location surrounded by beautiful alpine landscape where the owners go the extra mile to make your stay as comfortable as possible while at the same time placing a lot of emphasis on sustainability and ecofriendliness, then look no further. The Schillerkopf Alpinresort stands out from the many hotels in this area.
Check out their Website, Facebook, Youtube and Google Plus too!