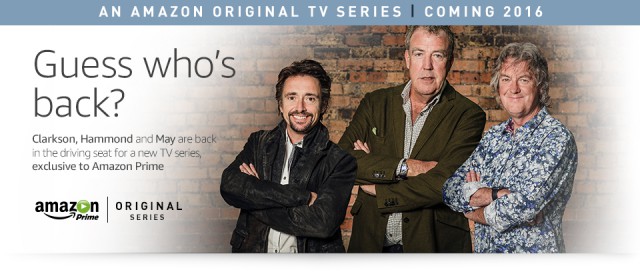 It has just been revealed that former Top Gear hosts Jeremy Clarkson, James May and Richard Hammond have signed a deal with Amazon to create a brand new motoring show.
The eagerly awaited show will be broadcast on Amazon Prime, the company's on-demand TV service. The three-series deal also includes Top Gear's former executive Andy Wilman with production of the first series set to commence soon before it launches in 2016. The show will be broadcast exclusively on Amazon Prime.
Discussing the show, vice-president of Amazon Prime Video in Europe, Jay Marine, said "Customers told us they wanted to see the team back on screen, and we are excited to make that happen.
"Millions of Prime members are already enjoying our ground-breaking original shows. We can't wait to see what Jeremy, Richard, James and the team will create in what is sure to be one of the most globally anticipated shows of 2016."
The format of the new motoring show remains clear with it also not yet having a name. The deal follows on from reports that Clarkson, Hammond and May were in fact in talks with Netflix for an original series.
Jeremy Clarkson recently commented on the deal saying "I feel like I've climbed out of a biplane and into a spaceship." May added to this by saying "We have become part of the new age of smart TV. Ironic, isn't it?".