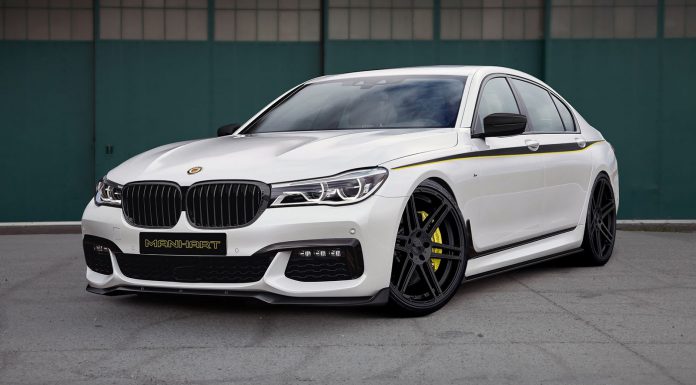 The latest-generation 2016 BMW 7-Series may have only just been revealed and already, Manhart has previewed its upgrades for the new car.
While the picture featured above is just a rendering, it does provide an accurate look at what Manhart has in store for the 7-Series. For starters, the car pictured is fitted with the optional M Sport Package.
Manhart has then added new air intake surrounds and LED daytime running lights, a black front splitter, blacked-out grilles and front air intakes, new side skirts as well as massive black wheels and yellow brake calipers.
The name of the car, the MH7 700, also suggests that Manhart is already working on some performance modifications for the car. They should see power from the range-topping twin-turbocharged 4.4-litre V8 rise from 449 hp and 479 lb-ft of torque to the 700 hp market. Consequently, a sprint to 100 km/h in less than 4 seconds should be achievable.