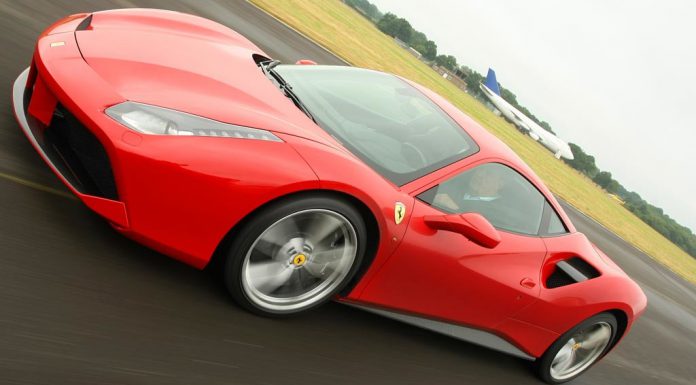 Earlier in the year, former Top Gear host Jeremy Clarkson revealed that he would complete one last lap of the TV's show test track to raise funds for charity. Well a couple of days ago, he did just that and chose the brand new Ferrari 488 GTB as his weapon of choice.
Prior to embarking on his final lap, Clarkson posted a photo on Twitter asking whether he should take a Mercedes-AMG GT S, LaFerrari or Ferrari 488 GTB for the lap. He evidently selected the newest of the three to complete the lap in and while not as fast as the LaFerrari, the 488 GTB is already proving to be neck-snappingly good.
Two keen fans bid 50,000 pounds each to spend the morning with Clarkson and the trio of cars at the track. All funds raised are going towards The Roundhouse in Camden, a charity helping 11-25 year olds get into performing arts and the media.
Following the lap, Clarkson tweeted that he did "the motherf***er of all tails slides through Chicago."
In case you didn't know, the new 3.9-litre twin-turbocharged V8 engine of the Ferrari 488 GTB is significantly more powerful than the naturally-aspirated 4.5-litre V8 used by the outgoing Ferrari 458 Italia. As a matter of fact, the Ferrari 488 GTB delivers 660 hp at 8000 rpm as well as 560 lb-ft of torque at 3000 rpm. Incredibly, torque from this engine is also higher than the 509 lb-ft of the 6.0-litre V12 found in the Ferrari F12 Berlinetta.