When we first drove the new Audi TT it did not blow us away. It is trying too hard to please everybody and for those craving the sporty side it left a lot to be desired. Audi tuner ABT Sportsline promised me their package would solve exactly that. Following our recent test drive of the ABT RS6-R the company in Kempten invited us again for another test drive. This time they had prepared a ABT tuned Audi TT for us. Based on the Audi TT 2.0 TFSI ABT created a TTS rival with 310hp and 440Nm of torque. Compared to 230hp and 370Nm for the standard Audi TT 2.0 TFSI.
On the outside the ABT TT distinguishes itself with an enhanced front bumper that includes front splitter, ABT rear spoiler and new rear diffuser. 20 inch ABT wheels complement the exterior. The interior is dominated by Alcantara leather on the steering wheel, seats and centre console. Performance wise the ABT Power kit dubbed 'New Generation' is responsible for the power increase. A performance exhaust changes the otherwise quite dull tone of the TT's four cylinder engine to a more voluminous soundtrack.
The suspension is enhanced with new ABT springs and stabilizers. The most important upgrade is the sport brakes on the front. Sized 370x35mm they are a major and mandatory upgrade for all TT(S) drivers who like to enjoy the true potential of their car. For some reason Audi mounts insufficient stopping power on most of their S models.
For our test drive with the ABT TT we planned a route to a small ski resort in the heart of the Allgau – as the region around Kempten is called, and from there a spectacular road leads us through valleys and forest back in the direction of the ABT headquarters. The TT was the first car in the Audi line-up to receive the Audi virtual cockpit and the large digital display is a great feature. Having the navigation map directly in view also helps navigating around unknown territory.
The ABT TT is front-wheel drive and although that doesn't make it as playful as a Cayman or BMW 2 Series, the new found power – both in accelerating as braking – makes it a lot of fun to drive. It is nimble, has a ton of front end grip and every burst of gas fills the cabin with a satisfactory and full bodied exhaust tune.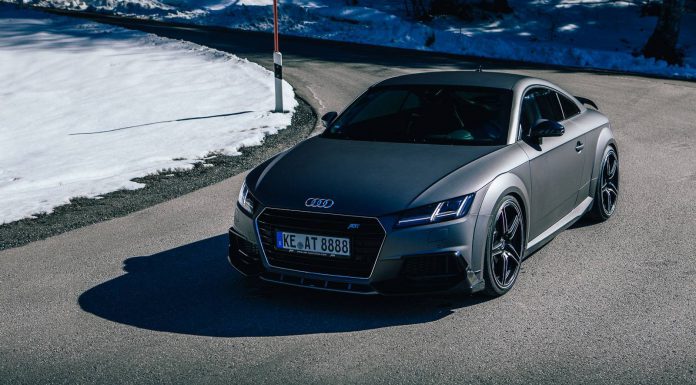 ABT did a great job of turning the 2.0 TT TFSI into a TTS rivaling sportscar. Pretty much all our complaints about the standard car have been solved. And this package makes a solid alternative for a TTS both in terms of price as performance.