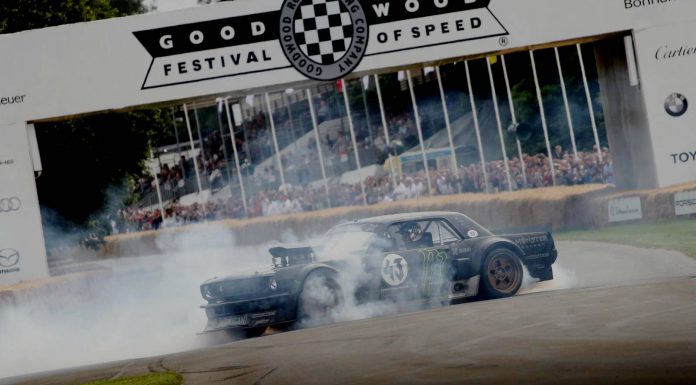 Friday has truly been epic at Goodwood Festival of Speed 2015, kicking off the weekend in the best way possible. From the rumbling of pre-war racecars to the screaming of modern F1 cars – add Mad Mike and Ken Block with their mighty drift cars and you have the perfect picture of all this.
There was a plethora of activities with pre-war cars taking the stage early in the morning followed by NASCAR and Rally cars. The rally cars ran in the traditional Forest Stage, here there was everything from the legendary Subaru 555, to Group B heroes comprising of the Audi S1 quattro, Lancia Delta HF and more. Ford Sierra Cosworth, Ford RS200 and Ford Focus WRC were among the Ford Rally cars in this stage.
In between the day we got to see Group C cars tackling the Hill Climb, most of these cars took part in the recent 73rd Goodwood Members Meeting. Derek Bell was present in the Porsche 962 while Mazda – who also happen to be the center of this year's festivities – were represented by quite a number of their historic racecars including the 787B which unfortunately crashed while taking part in the Hill Climb challenge.
It was refreshing to see Stirling Moss lead a convoy of Mercedes-Benz 300 SLRs up the hill, he was joined by the Mercedes W196 Grand Prix car which sounded very nice with Toto Wolff at the wheel. Kimi Raikkonen got behind the wheel of the 2010 Ferrari F1 car driving it to a smokey and loud start before Red Bull joined in with the RB1. Talking about sound, Aston Martin drove the new Vulcan up the hill and it has to be the best sounding Aston Martin, least to say.
Modern racecars included the Aston Martin Vantage GTE, Audi R18 e-tron, Toyota TS040 Hybrid -Toyota actually brought the same car from Le Mans – McLaren 650S GT3 and more. The supercars had their chance to go up the hill and so did the bikes. Noteworthy, there was quite a huge lineup of bikes some which are quite rare and unique. The 542 hp (Mad Max) Streetfighter Turbine Bike highlighted this category.
The Aviation showcase grabbed all the attention once the Eurofighter Typhoon turned up. For five minutes this spectacular fighter jet had all spectators' eyes glued to the sky as they witnessed its momentous stunts. Towards the end of the day Ken Block managed to fill the Goodwood Estate with smoke after charging up hill in his 850hp Mustang Hoonicorn, he was followed by Mad Mike in the Mazda RX-7.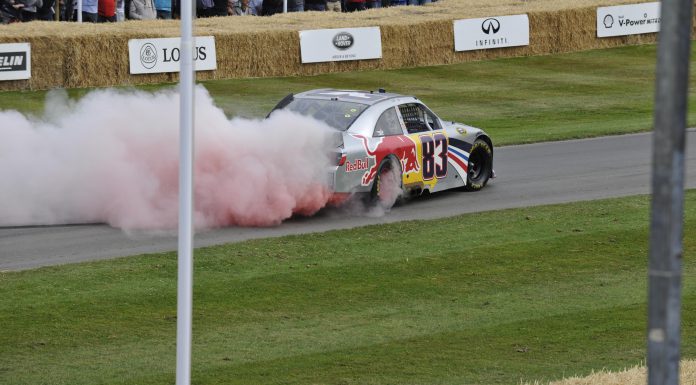 All this will be repeated tomorrow as the schedule is more or less the same albeit with different cars. Follow our live blog to stay in touch with what's happening during the day. There is also a free live stream available from Goodwood which you can access via the Live Blog.