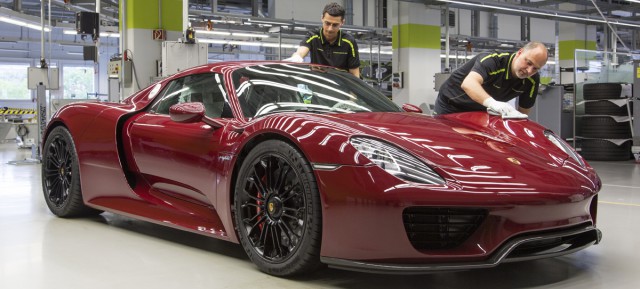 Just after it was confirmed that the final example of the Porsche 918 Spyder had been produced by the German automaker, an image has been posted of the 918th example of the hybrid hypercar. Fittingly, it is unlike any other 918 produced.
Painted in a dark shade of red, this Porsche 918 Spyder is rolling on a set of black wheels reminiscent of those from the original 918 concept. It also includes a carbon fibre front splitter as well as matching dark red brake calipers. It doesn't appear to have been fitted with the optional and expensive Weissach aerodynamics package.
It remains to be seen where this 918 Spyder is destined for but the United States is the most likely considering 297 units of the car are heading there. China and Germany are then the next two biggest 918 markets accounting for around 100 examples respectively.
The Porsche 918 Spyder features a mid-mounted 4.6-liter V8 engine, capable of producing 608 hp independently- which also happens to be the highest output power for any naturally aspirated Porsche engine. Meanwhile, the petrol engine is assisted with two electric motors mounted on each axle. When the electric motors work together with the engine, the 918 Spyder produces an astonishing 887 hp allowing it to sprint from 0 to 100 km/h in just 2.6 seconds. It has an electronically limited top-speed of 345 km/h, while a seven-speed PDK transmission transfers the power to the rear wheels of the car.