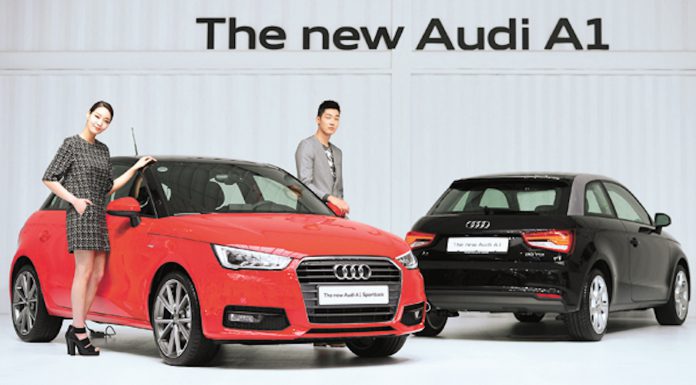 A few days back we reported that BMW had launched the 1 Series facelift in South Korea. Now, the competition in the compact luxury car segment has heated up with Audi launching the A1 hatchback in the country.
This is the smallest Audi available in the Korean market and will compete with the 1 Series and the A-Class. This launch comes at a crucial moment for Audi with Korea's luxury car segment blooming and foreign brands trying to create a strong market base in the country. Despite the car industry being largely dominated by domestic companies in Korea, Audi recorded a 37.9 percent growth in sales in 2014 and registered the third highest revenue among ($2.47 billion) the car manufacturers in the Asian country.
This year, Audi Korea will launch 11 cars as it aims to cross the sales target of 30,000 units in 2015. It sold 27,647 cars last year.
With its affordable pricing, the A1 will target the young customers with 44 percent of the imported car buyers last year being in their 20's and 30's.
"These days more consumers want premium compact cars and we believe that the new A1 will give the most attractive choice to the Korean market," said Audi Korea CEO Johannes Thammer, during the launch event in Seoul.
He further added: "We are introducing the updated version of the A1 with improved performance and design. Some 5 percent of our premium customers are young in their 20s. And the major premium customers are in their 30s who want lifestyle oriented vehicles."
Two models of the A1 hatchback are available in Korea; the three-door A1 30 TDI and the five-door A1 30 TDI Sportback. The car comes with a 1.6-litre TDI engine, capable of producing 115 hp and 230 Nm of torque. The power is transmitted to the front wheels of the car by a seven-speed automatic gearbox. The A1 can propel from 0 to 100 km/h in 9.4 seconds and has an electronically limited top-speed of 200 km/h.
Meanwhile, the A1 also comes with xenon headlights, LED taillights and Audi's Multi-Media Interface with a 6.5-inch infotainment screen as standard. It is the facelift version that has been launched.
The premium compact car segment in Korea is growing and Audi believes the market will touch 10,000 units between 2018 and 2020. Of that, it hopes to have at-least to have 15 to 18 percent of the share. The price of the A1 starts at 32.7 million won ($29,600).