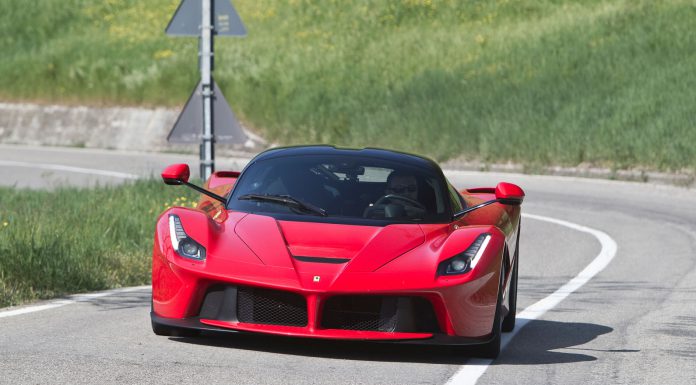 As it stands, the lap record for a production car around the Top Gear Test Track is a 1:13.8 set by the potent Pagani Huayra. However, the British TV show (now without any presenters) has yet to attempt flying laps in either of the three existing hybrid hypercars; the McLaren P1, Porsche 918 Spyder and Ferrari LaFerrari.
With that being said, for a special TV episode hosted by British radio host and noted car collector Chris Evans, the LaFerrari did hit the Top Gear Test Track with Fifth Gear host and racing driver Jason Plato behind the wheel.
[youtube]https://youtu.be/a6HfvdFeDIQ?t=2m20s[/youtube]
While there were a few drops of moisture on the track during the lap, the best time set was a 1:14.2. Of course however, don't expect to see the LaFerrari on the lap board anytime soon until Top Gear itself tests it at the Dunsfold Aerodrome.
On paper, it is quite surprising that the LaFerrari wasn't able to topple the Huayra's blisteringly fast lap. Whereas the Huayra features a twin-turbocharged 6.0-litre AMG V12 engine with just over 700 hp, the LaFerrari combines a 6.3-litre V12 with an electric motor to pump out 950 hp. What's more, the LaFerrari is produced by arguably the world's leading performance automaker while the Huayra is created by a company still in its infancy that has only ever produced a few hundreds cars. That point exemplifies why Pagani is so highly regarded in the industry.