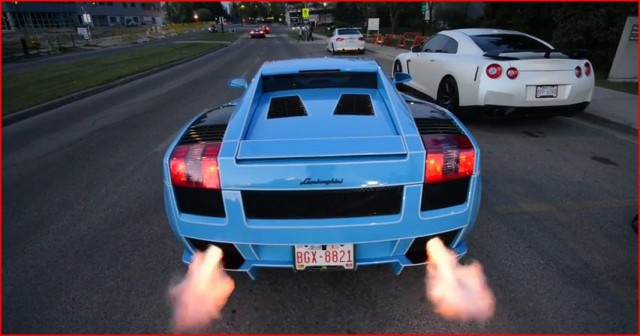 There's something to be said about a supercar shooting flames. This 2004 Lamborghini Gallardo has been heavily modified with Heffner twin turbos, ECU tune, intake and more and is quite prone to spitting flames like a dragon!
Having been recently wrapped baby blue with Tron-style white accent stripes, this Gallardo already looks badass! But then when you see it shooting flames, its sinister nature gets taken to a whole new level.
[youtube]https://www.youtube.com/watch?v=-MRK39npKu0[/youtube]
Mike Boldt Photo captured this Calgary Gallardo firing off blasts from its dual exhaust in an angry display of dominance.
The car, modified by ZR Auto in Calgary, is daily driven by its owner, and makes a serious statement at every traffic light. With 800 hp under the hood, and flames blasting out the back, this Gallardo sends a clear message for any challengers to simply back off.