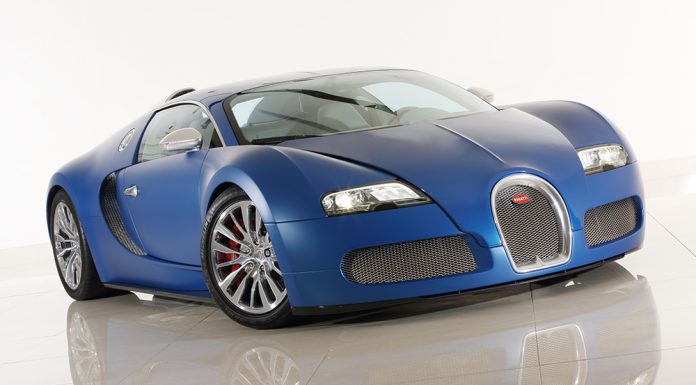 An exceptionally rare 2009 Bugatti Veyron Bleu Centenaire is currently up for sale courtesy of Tokyo dealership Bingo Sports. While it is unclear just how many Bleu Centenaire editions there are, all indications point towards it being a strict one-off.
The Bugatti Veyron Bleu Centenaire was created to celebrate the 100th anniversary of the French marque and unveiled at the Geneva Motor Show in March 2009. It is easy to distinguish from all other Veyrons thanks to its bespoke paint scheme incorporating matte blue and gloss blue. Additionally, it includes a number of aluminium accents like the horseshoe grille, fuel cap, engine air intakes, badges and door handles.
Elsewhere, the Bleu Centenaire features a bespoke set of wheels as well as bright red brake calipers. The interior is then characterised by white leather across the seats, centre console, dashboard and parts of the steering wheel. As with the exterior, a number of aluminium components are also found in the cabin.
Despite being produced in 2009, the Veyron in question has covered a mere 775 km. That means its 8.0-litre quad-turbocharged W16 engine delivering 987 hp is effectively untouched and as good as new. Interestingly, despite currently residing in Japan, the Bleu Centenaire has yet to be registered there meaning it is classified as a new car.
Unsurprisingly, pricing details haven't been made public.