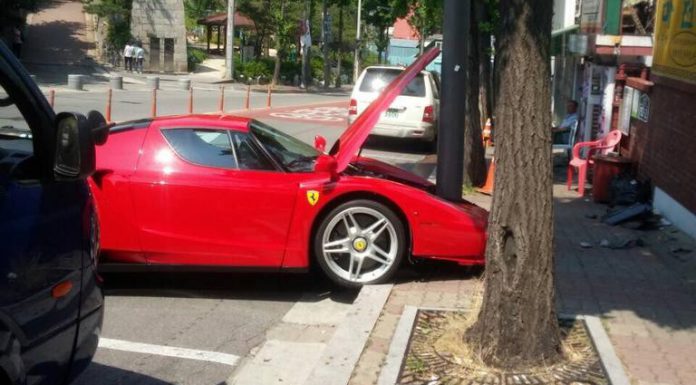 Photos of a crashed Ferrari Enzo have appeared on Facebook. It looks as though the accident happened in the city of Seongbuk-dong in South Korea. We are told that it is one of three cars in South Korea. The circumstances of the accident aren't clear, however, it doesn't look as though anyone was injured. Quite fortunate in our eyes as there appears to be a café close-by.
It appears as though the car broke traction, careering head-first into a telegraph pole. The smash left the telegraph pole embedded in the front bonnet of the Italian hypercar. It looks as though the accident was relatively low speed compared to others we have seen. The smash will undoubtedly require a trip back to Italy for repairs. Hopefully, the carbon fibre tub is still in tact.
When Ferrari released the Enzo 349 units were planned. However, once the order books had been filled and customers were still desperate to secure their own copy, Ferrari decided to produce another 51 units. The final example was gifted to the Vatican who sold it at a Sotheby's auction for $1.1 million, the money went to charity.
Despite the fact that it was designed by Ken Okuyama, the Japanese former Pininfarina head designer, very few Ferrari Enzo's were officially sold in Asia. This particular South Korean car is thought to have been an import, although its chassis number and original delivery designation is unknown.
The Ferrari Enzo is one of the last naturally aspirated V12 Ferrari's. It produces 660 PS at 7800 rpm and 657 Nm at 5500 rpm, figures which allow a 60 mph (97 km/h) sprint of just 3.14 seconds. The top speed is 355 kilometres per hour (221 mph). Following the release of the LaFerrari, Ferrari Enzo values have been steadily increasing.