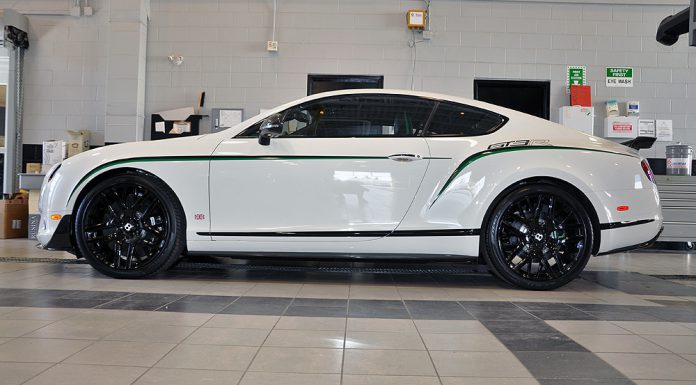 Distinctive Collection in Calgary just took delivery of one of the coolest cars on the planet. This rare Bentley Continental GT3-R is one of only 300 examples ever produced, and it's fresh off the truck. The cars at Distinctive Collection are always insane, but this certainly takes the cake!
Like Bentley's racing variant, the GT3-R is powered by the tried and true 4.0-litre V8. Unlike the racer, it uses an all-wheel drive platform. Bentley claims the reason for this is that that this makes the GT3-R more usable, safer and more enjoyable year-round. Though the car is nowhere near the weight of the stripped-out race car, the GT3-R is still the lightest, most dynamic Continental yet. The weight is 100 kg down from the Continental V8 S. The car weights in at 2195 kg.
On the outside, Bentley has added a rear splitter and fixed carbon-fibre rear wing, with the two-seater cockpit trimmed in Beluga black leather with diamond-quilted Alcantara. The same material is used for gearshift and steering wheel, while the centre console, fascia and door panels are carbon fibre. A vivid accent green is then used in the interior.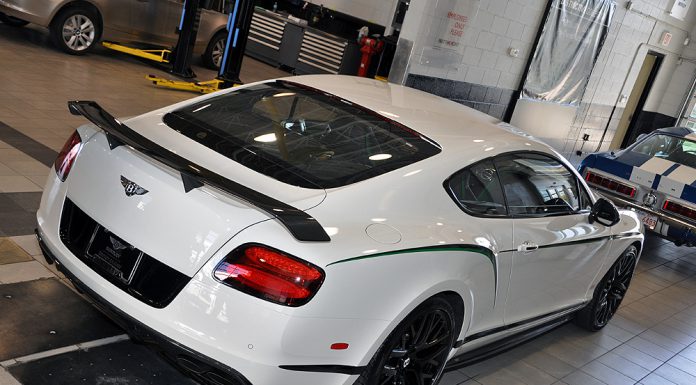 Bentley's 4.0 V8 packs a serious punch, producing 572 hp. The engine is outfitted with high-boost zero-lag turbochargers to develop 580 PS and 700 Nm. Shortened gearing delivers thrilling full-throttle acceleration, with 0-100 km/h taking just 3.6 seconds.
This particular GT3-R has already been sold to a lucky owner in Winnipeg, Canada.