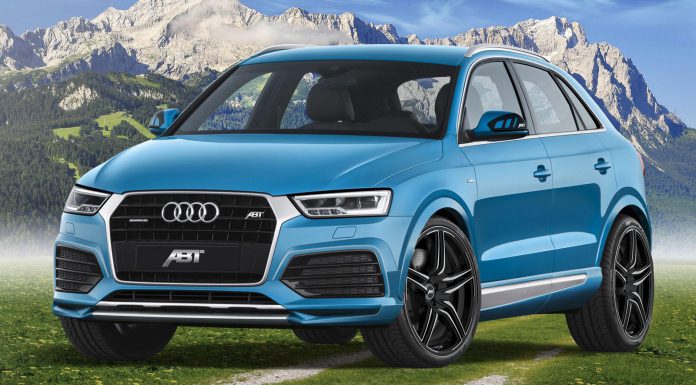 German tuning specialist ABT Sportsline has just unveiled its brand new tuning package for the recently facelifted Audi Q3.
Performance wise, ABT Sportsline offers a performance kit for the entry-level Q3 powered by a 2.0-litre TDI four-cylinder engine. The tuner has managed to add 26 hp and 29 lb-ft of torque lifting the final figures to 210 hp and 309 lb-ft. These gains have been achieved thanks to a new exhaust system as well as some engine tuning.
Elsewhere, ABT offers two different suspension kits for the facelifted Q3. The first sees the inclusion of lowering springs which drop the ride height by 25 mm at the front and 35 mm at the rear. An adjustable kit is also offered allowing customers to drop the front of the car by between 30 and 60 mm and the rear between 40 – 70 mm.
Completing the upgrades are a number of visual tweaks. These consist of a new front bumper, ABT wing mirror caps, rear diffuser and a subtle rooftop spoiler.