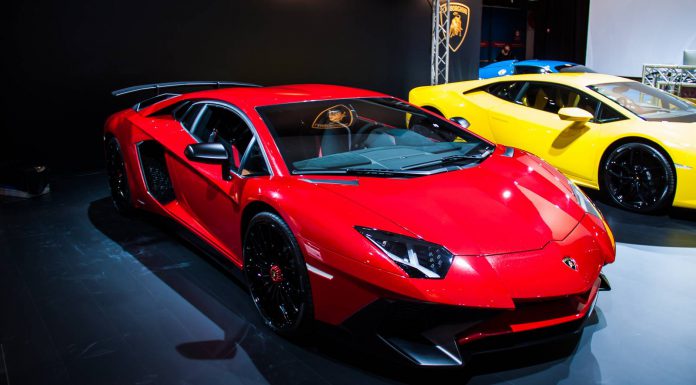 Surprise news emerged from Lamborghini today prior to the start of the Nurburgring 24 Hour Race. A video was released which shows the Lamborghini Aventador LP750-4 SV squeezing in a sub-7 minute lap time at the Nurburgring Nordschleife. The Aventador LP750-4 SV managed a full lap in just 6:59:73.
Lamborghini have yet to reveal the driver who piloted this awesome lap. The video below shows just how stunningly quick this lap was. The time is slightly short of that set by the Porsche 918 Spyder in 2013 but beats the 7:08.69 time set by the Nissan GT-R Nismo in 2013. The lap was set with road-legal P Zero Corsa tyres.
[youtube]http://www.youtube.com/watch?v=cp-KRcEpQEM&amp[/youtube]
The Lamborghini Aventador LP750-4 SV is one of just three road legal cars to dip below the 7 minute mark. The Radical SR8 LM currently holds the track record, closely following by the Porsche. McLaren have publicly stated that the McLaren P1 managed a sub-7 minute lap but haven't publicly confirmed details or released a video.
The Lamborghini Aventador LP750-4 SV was unveiled at the Geneva Motor Show 2015. It has since made appearances around the globe at various different events. It gets the 6.5 litre Lamborghini V12 uprated to 750 hp together with a 50 kg total weight reduction. The 0–100 km/h (0–62 mph) time is 0.1 seconds quicker, down from 2.9 seconds to 2.8 seconds. Top speed remains the same, stated as being "somewhere in excess" of 349 km/h (217 mph)
Today's news will likely spice up action on the Nurburgring for the coming months. As summer draws closer and testing gets underway we expect to see some lap times released by manufacturers. The one we expect to challenge these top times is the road-legal Scuderia Glickenhaus car.