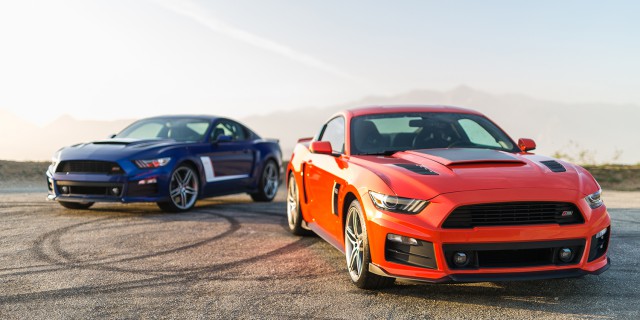 After being previewed late last year, official specifications for the range topping 2015 Roush Mustang Stage 3 have just been revealed.
At the heart of the Roush Mustang equipped with the Stage 3 performance package is the American muscle car's standard 5.0-litre V8 engine. However, the engine has been joined with a 2.3-litre TVS supercharger from Roush. When combined with a new exhaust system, the latest and greatest Roush pumps out 670 hp and 545 lb-ft of torque.
Alongside the engine and exhaust modifications, the 2015 Roush Mustang Stage 3 has been fitted with single-adjustable coilover suspension but a 3-way adjustable system is also offered. Elsewhere, the Roush Mustang Stage 3 is adorned with an aggressive and bespoke bodykit incorporating new front and rear bumpers and fascias as well as a bonnet featuring a prominent power dome.
Beyond the Stage 3 kit, Roush offers its standard Mustang, the Stage 1 and Stage 2 packages. The entry-level model features the Mustang's base 3.7-litre V6 while the Stage 1 uses the 2.3-litre EcoBoost turbocharged four-cylinder and the Stage 2 uses the 5.0-litre V8.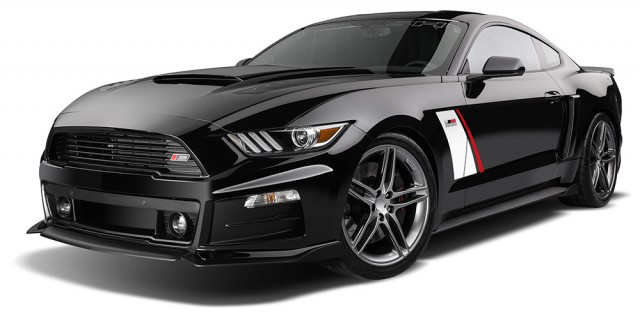 [showhide]
"ROUSH Performance is excited to announce final horsepower ratings for the all-new 2015 ROUSH Stage 3 Mustang. The RS3 is cranking out a heart-racing 670 horsepower and 545 lb-ft of torque to deliver the ultimate driving experience.
All 670 horsepower are created as a direct result of the powerful combination of Ford's 5.0L V8 engine with ROUSH Performance's dynamic new 2015 2.3L TVS supercharger.
The new ROUSH Mustang's generous power ratings impeccably compliment the RS3's list of standard and optional features, including the ROUSH Quad-Tip exhaust (with optional ROUSH Active Exhaust System), standard single-adjustable coilover suspension system (or optional competition-tuned 3-way adjustable system), and the fierce new "R7″ aerobody.
The 2015 ROUSH Stage 3 Mustang is not just a car – it's an experience. The RS3 truly bridges the gap between road car and race car, putting drivers behind the wheel of the ultimate uninhibited muscle car.
Jack Roush's vision shines through the 2015 ROUSH Stage 3 Mustang's perfect combination of 670 horsepower with meticulous handling and braking capabilities, providing the driver access to the robust attitude and performance of a racecar, while maintaining a comfortable and uniquely ROUSH driving experience.
For more information, visit www.ROUSHPerformance.com."
[/showhide]