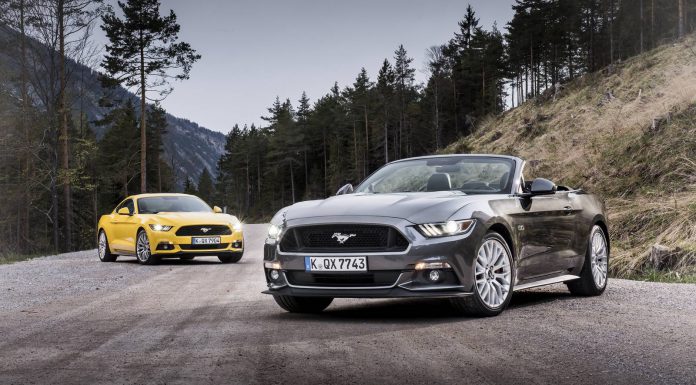 The European-spec 2016 Ford Mustang range has just been introduced. Available for the first time in Europe, the sixth-generation Mustang promises to provide European customers with their first taste of the classic American muscle car.
Whereas the Mustang is available with three engines in the United States, just two of those are offered across Europe. They are the 2.3-litre EcoBoost four-cylinder engine as well as the range-topping 5.0-litre naturally aspirated V8 meaning the V6 misses out. In Euro-spec, the EcoBoost engine delivers a total of 313 hp and 319 lb-ft of torque and will launch the muscle car to 100 km/h from a standstill in 5.8 seconds when equipped with the six-speed manual transmission. The car sips 8.0-litres of petrol per 100 km in this specification.
As for the 2016 Ford Mustang in Europe, it pumps out 415 hp and 391 lb-ft of torque making for a 0-100 km/h sprint time of 4.8 seconds with the six-speed manual. The V8 is also offered with a Launch Control system and an electronic Line Lock system which locks the front wheels in place to help initiate the perfect burnout. Elsewhere, European-bound Mustangs come standard with the Performance Pack which includes beefed up brakes as well as improved cooling systems for high-speed driving.
A number of driving modes are also available. They are Normal, Sport+, Track and Snow/Wet with each subtly tweaking the AdvanceTrac electronic stability control system while also fettering with the muscle car's throttle response, steering and automatic gear-shift patterns. Three options are also available for the Selectable Effort Electric Power Assisted Steering feature.
Other standard features for the 2016 Ford Mustang in Europe include a set of 19-inch wheels, LED taillights, dual-zone climate control, a nine-speaker sound system, 8-inch colour touch screen and automatic HID headlights.