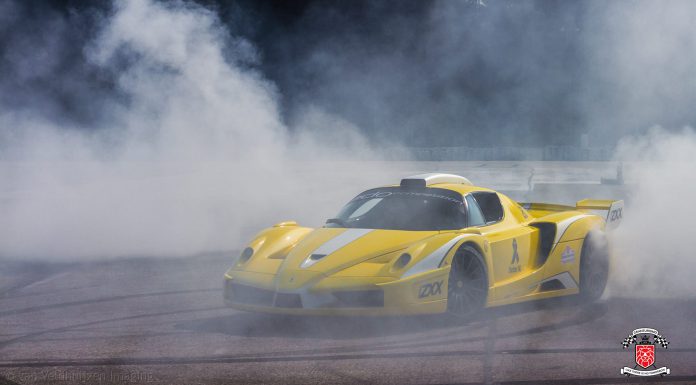 What's cooler than a modified Ferrari ripping around a world-class race track? How about the one-of-a-kind ZR Auto Ferrari Enzo ZXX pulling some smokey donuts at the Gran Turismo Spa 2015 event at Spa-Francorchamps in Belgium?
Edo Competition owner, Edo Karabegovic, took the street-legal FXX to the event to baseline test the car's current settings before installing some new performance parts. We previously told you the car was shipped from its home in Calgary, Canada, to Edo Competition headquarters in Ahlen, Germany, to receive some new performance upgrades. From the looks of things, the tests are going well so far.
[youtube]https://www.youtube.com/watch?v=CHFqzEoAZs0[/youtube]
"I told Edo when he texted me this morning that he could do what he wanted with the car," said Zahir Rana, owner of the Ferrari ZXX. "The car is getting a new engine anyway, so when else can I see my car doing burnouts and being driven like that? The Germans are crazy, and I trust Edo with my car. That's something I only wish I could do with my car."
We're hearing the ZXX was actually too loud for the Spa-Francorchamps, so it was apparently black-flagged and kicked off the track. This isn't the first time the ZXX has been forced off a famous raceway due to noise violations.
The noise bylaws don't apply to the access roads and parking lots, so Edo took the opportunity to do a few smokey doughnuts in the ZXX before returning the car back to his shop in Ahlen.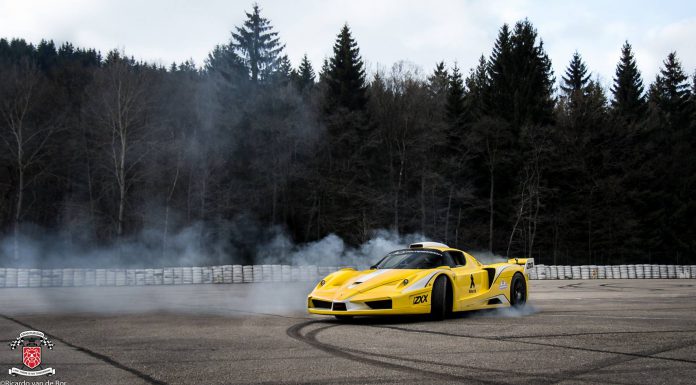 Though the ZXX hasn't undergone any upgrades since it was shipped from ZR Auto to Edo Competition, the 6.5L V12 motor pushes out 950 horsepower.
"It's going to get a complete overhaul performance-wise," Rana said. "I just want my car to be perfect. It's too slow right now and I don't like it."
Edo Karabegovic and his team will be rebuilding some of the car's internals with the hope of boosting its power and top speed to make it once again the fastest Ferrari in the world.