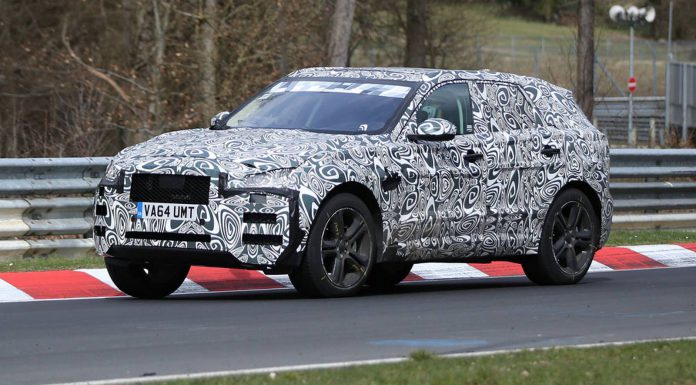 Prior to its world debut at the IAA Frankfurt Auto Show 2015 this coming September, new Jaguar F-Pace spy shots have emerged of a heavily disguised prototype testing at the famous Nurburgring Nordschleife in Germany.
While future owners of the F-Pace will rarely if ever take the crossover to the track, testing at the Nurburgring does provide the British marque with the opportunity to test its mechanical components feverishly under the toughest driving demands.
From a visual standpoint, a selection of characteristic Jaguar elements have been seen on recent prototypes including this one. For starters, the production-spec Jaguar F-Pace will feature similar headlights and taillights to the C-X17 concept with the overall body almost identical in its shape. Additionally, the production-spec Jaguar F-Pace is expected to maintain many of the interior elements from the original concept.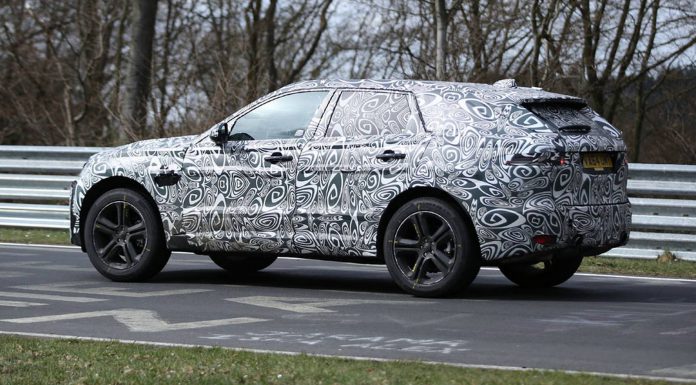 Beneath the skin, the road-going Jaguar F-Pace will ride on the same aluminium architecture as the XE. It will also be available with similar engines including a selection of petrol and diesel four-cylinders possibly utilising forced induction in the form of twin-turbochargers in top-specification. Thanks to the lightweight architecture, it is hoped the F-Pace will weigh less than the Porsche Macan, its main rival.
Other details about the Jaguar F-Pace remain scarce but it is speculated that it will be available with four seats like the original C-X17 concept as well as five seats as showcased at the Guangzhou Auto Show 2013.