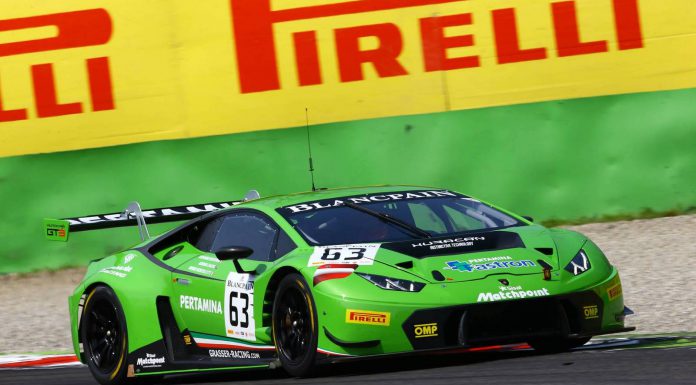 The new Lamborghini Huracan GT3 made its race debut with a bang at the 2015 Blancpain Endurance Series opener in Monza, crossing the finish line first after three hours of extreme GT racing. The victory however was short lived as the #19 Lamborghini Huracan GT3 fielded by GRT Grasser Racing Team got excluded from the meeting, a decision made by race stewards who found the car to have breached refueling restrictor regulations. Nevertheless, GRT Grasser Racing Team has appealed and the final decision awaits.
The #333 Rinaldi Racing Ferrari of Norbert Siedler and Rinat Salikhov crossed the finish line in second place but first in Pro-Am category. Laurens Vanthoor drove the #1 Belgian Audi Club Team WRT Audi R8 LMS Ultra to finish in third overall but second in PRO category. Completing the podium in PRO category was the #7 M-Sport Bentley Continental GT3 driven by Guy Smith, Andy Meyrick and Steven Kane, they finish in fifth place overall behind the #51 AF Corse Ferrari of Duncan Cameron and Matt Griffin.
The Pro-Am podium was thrived by only Ferrari teams that comprised of Rinaldi Racing with the #333 Ferrari 458, AF Corse Ferrari with the #51 car and Kessel Racing with the #11 car piloted by Michael Broniszewski, Michael Lyons and Alessandro Bonacini.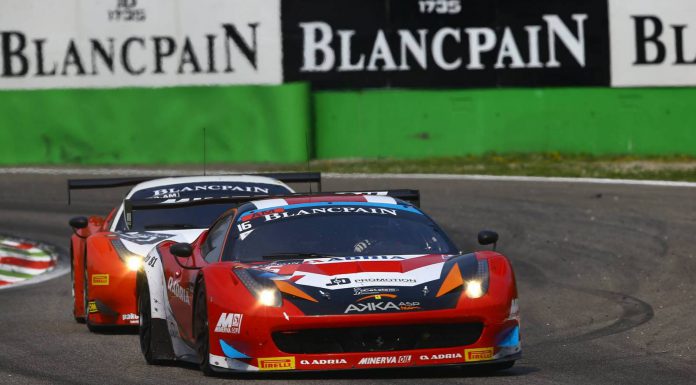 The AM Cup was a replica of Pro-Am with Ferrari sweeping the entire podium, Kessel Racing took first place with the #111 Ferrari 458 of Stephen Earle, Marco Zanuttini and Liam Talbot. Second place went to the Akka ASP #16 Ferrari 458 Italia of Fabien Barthez and Anthony Pons. Glorax Racing completed the podium in third place with the #25 car piloted by Fabio Mancini, Andrey Birzhin and Rino Mastronardi.
Drivers' Quotes:
Laurens Vanthoor (#1 Belgian Audi Club Team WRT): "Even without the safety car intervention I think I could have gained some places in the final stint. This podium finish is a good way to start my title defence. If we can manage to be consistent, to finish on the podium every time, we should be able to have a shot at the title. Finally, I would like to dedicate this podium finish to our mechanics. After our mishap in Nogaro they had to build a new car from the ground up and as you can see by the result, they did a fantastic job."
Guy Smith (#7 M-Sport Bentley): "Because of the nature of the first corner and the run-up to it, Monza is probably one of the more difficult circuits to take a start. Once we managed to get through without any incidents, it was all about managing the gap towards the car behind us. We are not the fastest car around, but by maintaining a steady rhythm, we managed to gain some places."
Rinat Salikhov (#333 Rinaldi Racing Ferrari): "There is always some luck involved in racing, and when we managed to kept the lead in the second stint, we started to believe we might get a good overall result as well. I pushed hard in the final stint and thanks to the good work of the team we got this great result."
Liam Talbot (#111 Kessel Racing Ferrari): "It was really worthwhile to travel from Australia to Monza. I still think I am dreaming. To get a win in my first race in Monza, with a Ferrari, is just unbelievable. The team and my team-mates did an incredible job. I will be back in the Blancpain Endurance Series!"
Results