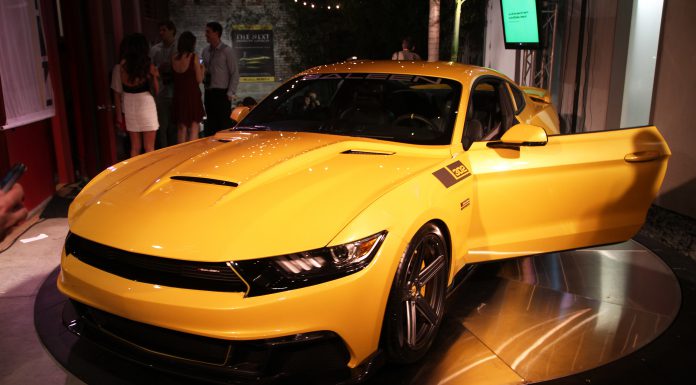 Saleen has pulled back the cover on their latest, baddest Mustang to date – the 2015 S302 Black Label.
Unveiled at an event in Downtown Los Angeles, the S302 Black Label is positioned as Saleen's fastest, most refined Mustang to date. "Since I started building cars in 1984 my goal has always been to go above and beyond where anybody has been before", said Steve Saleen. "This will by far be the most refined and advanced Mustang we have built to date."
The 2015 Black Label will be powered by a supercharged version of Ford's 5.0-liter Coyote engine. The twin-screw supercharger helps the Black Label reach an astonishing output of 730 horsepower and 600 lb-ft of torque on pump gas. The new Black Label is a marked step up in performance over any other Mustang available on the market.
According to Saleen, the Black Label will outperform every competitor in engine performance and outperform all previous generations of Saleen Mustangs in handling.
The Black Label is fitted with Saleen S4 springs, shocks, swaybars and bushings all around. Stopping power comes courtesy of 15-inch dimpled rotors and multi-piston brakes. Power is sent to the road via Pirelli 275/40R20 rear tires (275/35R20 front tires).
"From the beginning of this project, we have always known that we wanted to create the most powerful production Mustang we have ever built", said Sven Etzelsberger, V.P. of Engineering. "I can happily say that we have accomplished this goal with great success."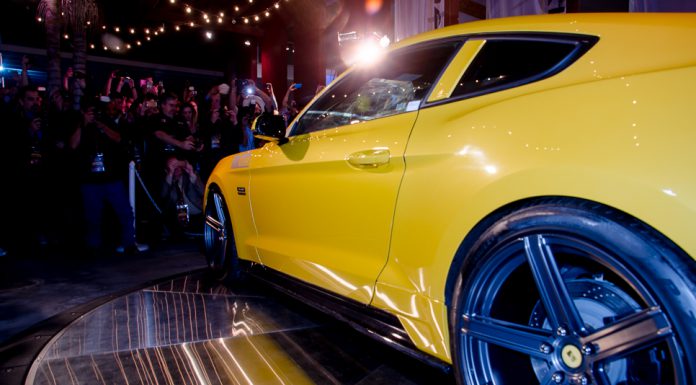 Saleen asserts the Black Label is one of their most advanced designs ever. Considerable time was spent optimising lift over drag for all added aerodynamic components. Overall, the Black Label is 1.5 inches longer in the front and 2 inches longer in the rear over a standard Mustang. Much of the added length comes from a rear wing and carbon fiber front splitter.
For the Black Label, Saleen worked with partner BASF to create a custom paint scheme called California Sunset. The paint scheme, which looked fantastic under the lights, was created to mimic the effects of the setting sun.
Additional design changes include a redesigned hood, 302 badging and a custom Saleen interior.
The 2015 Saleen S302 Black Label will be priced from $73,214 and is available for order immediately.