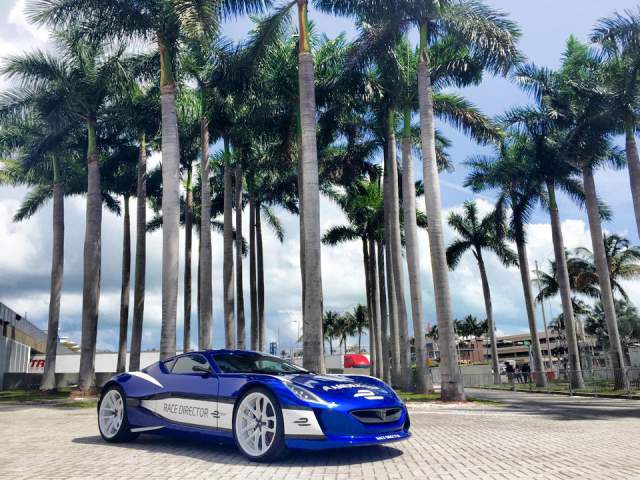 Pioneering electric car company Rimac Automobili is turning heads with its stunning 1088 hp Concept_One supercar for the race director of the new all-electric FIA Formula E Championship.
At the weekend it was even more eye-catching with new livery and software upgrades as Nico Prost became the fifth driver in as many races to become a Formula E race winner in the Miami Grand Prix round. He headed a 20-car field with some illustrious names, American Scott Speed finishing second.
For the first time in a Formula E race the safety car was not called out, but there were still plenty of chances to see Rimac's fully-electric one-of-a-kind car for the race director, which can rocket from 0-100 km/h in 2.8 seconds the same time as a Formula E single-seater.
The car is for the race director to conduct track inspections and other duties while producing zero emissions on the dramatic city centre street circuits.
The US$980,000 Concept_One is also being used for passenger laps during Formula E events, the next of which is at Long Beach in the United States on April 4, in Monte Carlo on May 9, Berlin on May 23, Moscow June 6 and the double-header finale in London June 27-28.
Based in Croatia, near Zagreb, Rimac Automobili is a family of enthusiasts, engineers and designers that set up in 2009 to find new ways of making cars faster, and to prove to the world that electric cars can be fun – complementing the ethos of the Formula E championship.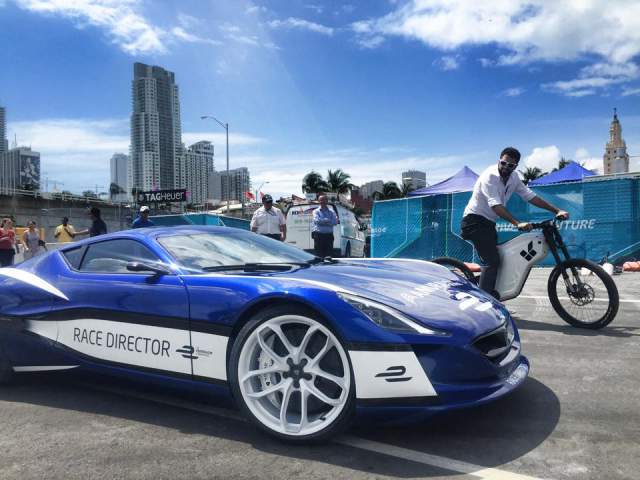 The Concept_One features an advanced powertrain with four individual drive systems, each with a very powerful proprietary permanent magnet synchronous motor and gearbox unit. Each of the four systems drives its own wheel independently, introducing new levels of handling and adjustability through the Rimac-All-Wheel-Torque-Vectoring System.
With a power output of 1088hp and torque levels of 1600Nm from 0 to 6500rpm, each wheel can also independently accelerate or decelerate in a fraction of a second helping to give superb handling and driving experience.
Mate Rimac, CEO of Rimac Automobili, said: "Racing has always been the driver of innovation. It is the reason for our very existence as Rimac Automobili was born as the result of my passion for racing and electronics. We believe that the Formula E series will be an incubator for thousands of innovations and technologies that will contribute to the adaptation of electric drivetrain technology in many applications."
Rimac added: "When I get into a McLaren or a Ferrari or something like this, the noise and the drama is very impressive but it's just so much more analogue.
"I like to power slide, to drift, to oversteer and the car helps to initiate the drift, to hold the drift, to do exactly what you want, so it's a completely different level and I think that our car every car enthusiast will like it. Everybody asks me 'what about the sound?' It has sound, it's different, but it's not that quiet actually!"
Alejandro Agag, CEO of Formula E, added: "We're very excited to be working with such an innovative company like Rimac Automobili. The Concept_One is a fantastic piece of modern technology."