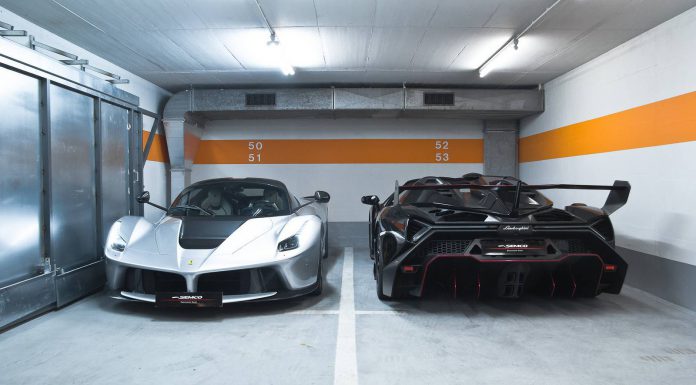 Semco Cars in Munich, Germany is certainly one of the world's most exclusive exotic car dealerships. At one stage last year in fact, the dealership had two of just three Bugatti Veyron Grand Sport Vitesse Rembrandt's in its collection with numerous McLaren P1s and Porsche 918 Spyders also passing through the dealership's doors since.
GTspirit has been fortunate enough to visit Semco Cars on numerous occasions and have previously spent quite a bit of time with its ultra-exclusive black Lamborghini Veneno Roadster. With that in mind, when we heard that Semco had just taken delivery of a special silver Ferrari LaFerrari, we just had to see it up close and alongside the Veneno Roadster!
Beyond the silver paint found across most of this LaFerrari, it also incorporates a black element on the bonnet, black wing mirrors, a black roof as well as a black front splitter and carbon fibre rear diffuser. The owner then opted for silver five-spoke wheels as well as bright yellow brake calipers.
As you surely know by now, the LaFerrari gets a 6.3-litre V12 which is connected to an electric motor similar to the system on the McLaren P1. The Ferrari F150 V12 has an output of 789 hp at 9000 rpm and 700 Nm at 7000 rpm while its electric motor has a maximum output of 161 hp and 270 Nm of torque. That delivers a total combined power output of 950 hp.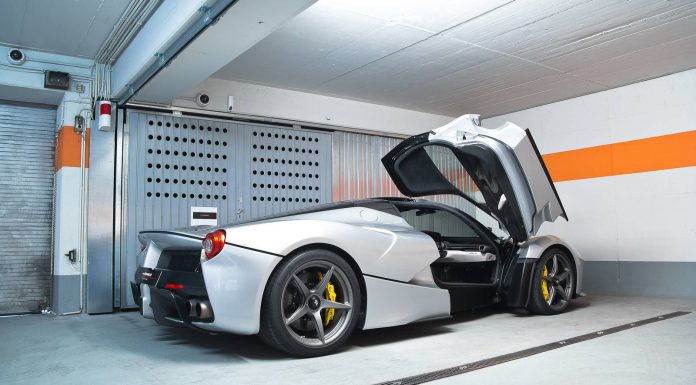 As for the Veneno Roadster also pictured, it is actually chassis #1 of just nine set to be produced. It features a gloss black paint scheme incorporating bright red accents and pinstripes across the exterior. This colour scheme is carried into the interior with red and black leather featuring throughout and really adding to the exclusive flair of the car!
The package of the Veneno Roadster is very similar to the Veneno coupe which is based around the Lamborghini Aventador. The engine is the Aventador's new 6.5 litre V12 unit, uprated to 750 hp in the Veneno Roadster. Power is driven through an all-wheel drive system via a modified ISR transmission. Five settings are available with pushrod suspension and horizontal sprint/damper units.