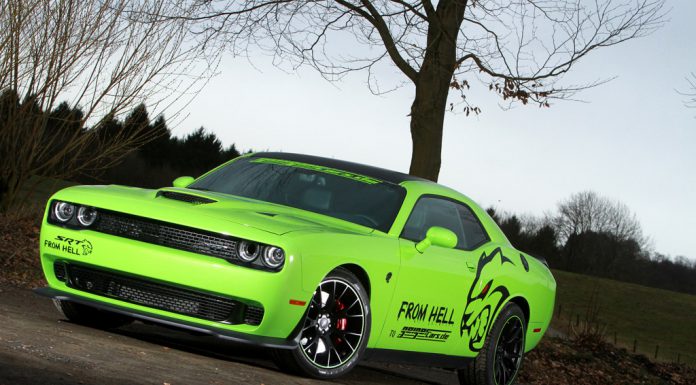 The 2015 Dodge Challenger SRT Hellcat has officially arrived on European shores thanks to Geiger Cars. While Geiger Cars has made a name for itself as an aftermarket tuner, it appears as though it will import examples of the Challenger SRT Hellcat to Europe privately and keep them mechanically and visually stock.
As we well and truly know, the 6.2-litre supercharged V8 engine of the Dodge Challenger SRT Hellcat pumps out a truly spectacular 707 hp and 650 lb-ft of torque! To help limit power of the new SRT Hellcat in not-ideal situations, it comes standard with a black key fob which limits power to 500 hp while the red key fob unlocks the full potential of 707 screaming horsepower! This power comes courtesy of a 6.2-litre HEMI V8 supercharged engine which we now know is the most powerful engine the Chrysler Group has ever produced.
For any car with so much power, some equally large and potent brakes are also needed. With that in mind, the Dodge Challenger SRT Hellcat comes standard with Brembo brakes that measure 390 mm at the front and feature eight-piston calipers. Additionally, four-piston calipers clamp down on 360 mm vented discs at the rear.
When imported through Geiger Cars, the 2015 Dodge Challenger SRT Hellcat starts at 86,000 euros including German taxes.