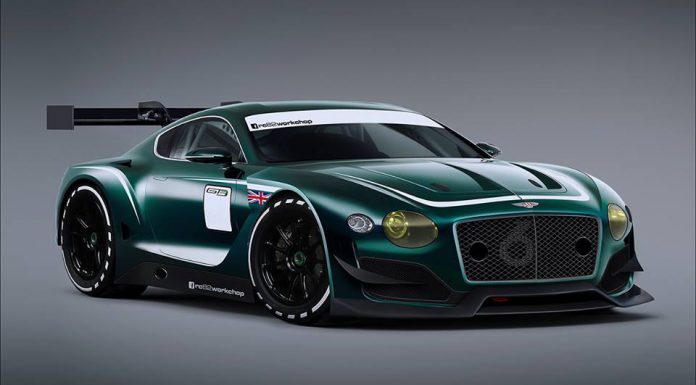 If the Bentley EXP10 Speed 6 Concept from the Geneva Motor Show 2015 is given the thumbs up for production, there's certainly a possibility that a racing derivative could be produced. If such a car was created, it could effectively replace the Bentley Continental currently used in GT3 racing series around the world.
With that in mind, RC82 Workchop has decided to render how a Bentley EXP10 Speed 6 GT3 could look. To turn the concept into a race car, a new fascia has been installed incorporating a different grille, prominent canards as well as an extended splitter. Additionally, the side skirts have been revised with a different bonnet with air extractors also installed.
The rear end is then characterised by a towering gooseneck wing to stick the rear wheels to the ground.
In case you didn't know, the Bentley EXP10 Speed 6 uses copper elements are used as accents to both the exterior and interior. The design also gets the traditional Bentley matrix grille and four-round headlamps and generally speaking, the car is low, sleek and features a heavily metallic version of British Racing Green. Bentley have used 3D metal printing technology for the grille mesh, exhausts, door handles and side vents to ensure precise detail.
We are told that the Bentley EXP10 Speed 6 uses a hybrid drive system but there are no details about that powertrain at the time of writing. The rear interior space is divided into two compartments designed to house a specifically designed four-piece luggage set.
[Via https://www.facebook.com/rc82workchop?fref=photo" target="_blank">rc82 workchop