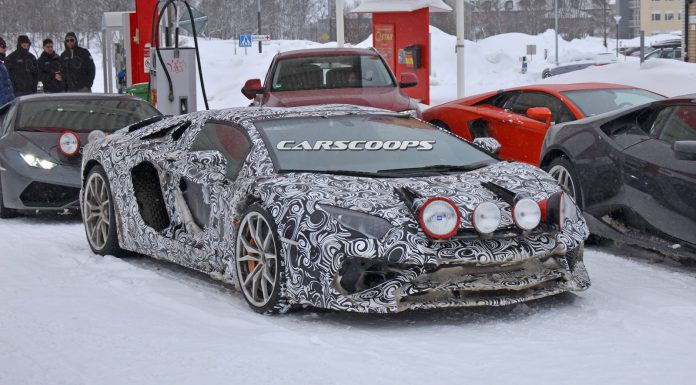 Just a matter of hours before the Lamborghini Aventador LP750-4 SV was introduced at the Geneva Motor Show 2015, a single spy image emerged of a heavily disguised Aventador SV Roadster prototype. Now clearer pictures of that same test mule in the midst of cold winter testing have emerged and it is immediately apparent that an Aventador SV Roadster is in the works for a debut relatively soon.
Spotted out with a number of other Lamborghinis, this test mule features all of the aerodynamic changes adopted by the Aventador SV coupe with the exception of the large fixed rear wing. At the back for example, an exceptionally bold diffuser is found alongside the four exposed exhaust tips. Additionally, the redesigned air vents and air outlet surrounds of the Aventador SV are featured on this Roadster test mule.
At the front, the Lamborghini Aventador SV Roadster pictured includes a more aggressive front fascia with a radically redesigned lower splitter compared to the existing Aventador Roadster. Other final changes borrowed from the Aventador SV coupe are the redesigned air intakes on the rear haunches.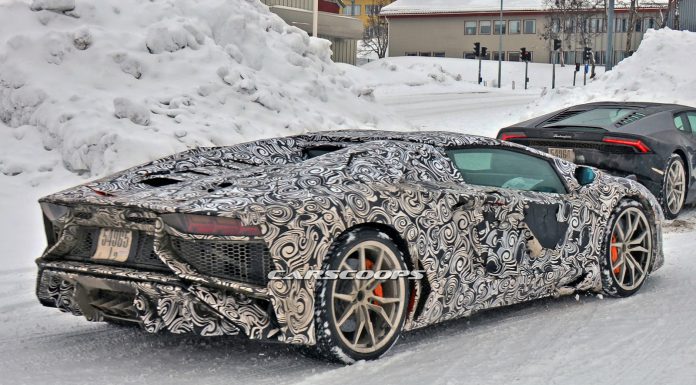 In some ways it is surprising that an Aventador SV Roadster is being developed considering no drop top version of the Murcielago LP670-4 SV was released. On the other hand, the Italian marque does quite often offer its limited run models in both coupe and convertible guises.
Mechanically speaking, the Lamborghini Aventador SV Roadster should use the same tweaked package as the coupe. As a result, expect its 6.5-litre V12 engine to deliver the same 750 hp as the coupe alongside a weight drop of around 50 kg compared to the 'standard' Roadster. As a result, acceleration times should drop slightly.
[Via Carscoops]